The Book of Liermann
By Sheila
Not Ray
The truth behind my holiday letter is that my best stories don't come from my imagination—they come from the bone-head moves of my husband. Wait! Did I just write that? Let me rephrase. My best stories come from the fun and spontaneous acts of my husband. I'll catch you up on his best moves since 2009, the last year I sent a holiday letter.
And yes, I know that it is perhaps unprofessional of me to put my holiday letter on my blog. But if I wanted to be professional, I would be wearing high heals and fancy dresses with a professional job in a big city. Instead, I live in Idaho and wear yoga pants and Sorel boots.
And yes, that photo is from last year. If I waited for a fresh photo, I'd never get this letter done. It's 7 years overdue as it is.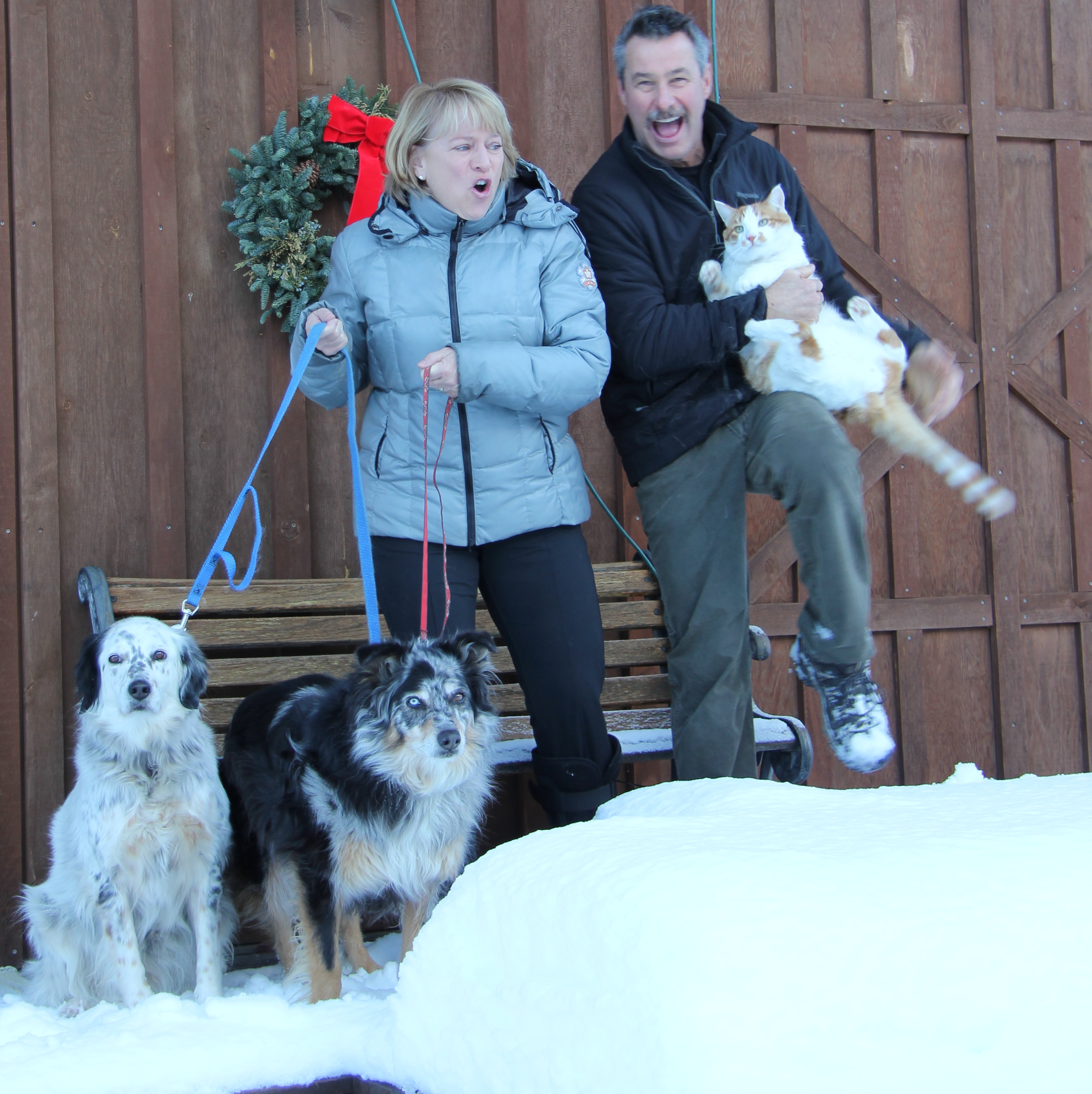 Who's in the picture:
Chappy the Cat - 15.5 pounds. Afraid of mice.
Rhoady the Aussie - 14.5 years old. Afraid of nothin'.
Rosie the white dog with big black spots: A shelter mutt. Want to know her DNA results? She's not what she appears.
Ray aka Mondo - Sliding into 61 years of age. Afraid of computers, but not mice. Want to know HIS DNA results? It ends up the German is actually Russian. He's getting a new knee this winter. Yes, please pray for me. Again.
Me: What can I say about myself? I'm not afraid of mice or computers. I, too, am a mutt. Weight and age are undisclosed.
____________________________________________________
The Wrong Country in 2016
After a long winter and before the onslaught of a busy summer, we like to take a vacation and this year we went to Portugal. Here's what I have to say about Portugal… the country is beautiful, it's the home of the very first wine region in the world dating back to the second century, the people are a delight, the bike riding is fantastic, but………but their food is the worst in Europe. There I've said it. I feel bad for saying it, but dang it, I ride my bike so I can eat great food at the end of the day.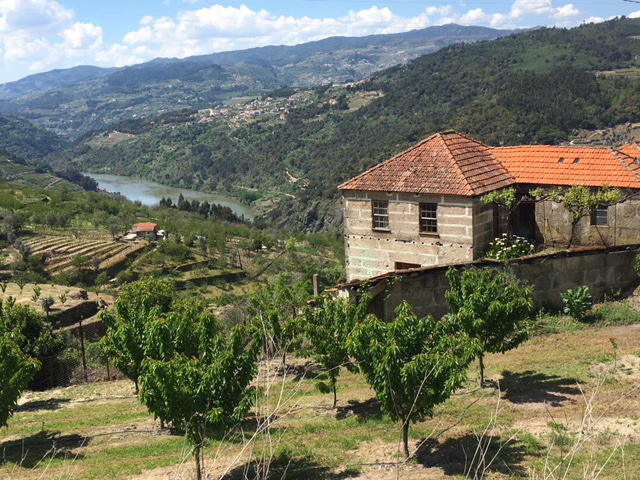 There were no "Liermann Mishaps" in Portugal… no totaled cars; we didn't get too lost; there were no broken bones; no cops looking for Ray; nothing dramatic happened like usually happens when we leave the Wood River Valley. And yes, we have totaled cars and been very lost; we've had broken bones (both of us) and there have been cops at the door (For Ray, not for me! Heavens no!). Yes, plenty of drama! We had a glorious three weeks in Portugal and then we flew home…..
Upon disembarking in San Jose, California, a representative from British Air met us to say that our bikes (in their big plastic bike boxes) were lost. Not delayed. Not on the next flight. Simply "lost." British Air couldn't tell us where in the world our bikes were—literally.
So it's off to the hotel. We call ourselves the "No Reservation Liermanns" because we tend to travel without making reservations. We like to arrive at a town, check it out, hop on our bikes and scoot around looking for the best hotel situation. It usually works out. Usually.
I had made reservations in San Jose because let's face it, after a transatlantic flight one doesn't really want to drive all over hell and gone looking for a well-situated hotel near the airport. Aren't all hotels at any airport "well situated" anyway? So, off to the Marriott for a good night's sleep before flying out the next day to Seattle and on to Boise.
I walked up to the hotel desk to check in. The hotel clerk announces we don't have a reservation.
I announce "Yes, we do. It's right here on my phone." I show her my phone.
She announces, "Yes, you have a reservation at a Marriott tonight. In San Jose, Costa Rica. Not in San Jose, California."
I am done "announcing" and simply say, "Okay. That was silly of me. We'll just take whatever room you have available."
The Marriott announces, "We have no rooms available. There are no rooms available anywhere in San Jose tonight. It's Tuesday."
I ANNOUNCE, "What's Tuesday got to do with anything?" I mean, really.
Apparently I should have known that the "Epi-Center of Technology" has no hotel rooms Sunday thru Thursday nights.
The hotel clerk says, "You are welcome to sit in the lobby and try to find another hotel room, but I think you'd be better off going into Santa Cruz or San Francisco."
"What!!!! Our flight leaves at 6:30 AM tomorrow! It's now 9 PM!!! It obviously doesn't make sense to drive to Santa Cruz and sleep for an hour and then turn around and drive to the airport."
Need I say, Ray is steaming. I don't think many of you know the actual definition of "steaming." I'll spare you the details. I still don't know if Ray was more upset with British Air for losing our bikes or with me for booking a hotel in the wrong country. Surely other people have done this. Haven't you?

An hour later I had just finished saying "We should just go to the airport and sleep in the Alaska lounge," when the hotel managers announces, "We found a hotel room for you. They will hold it for you so leave now."
We get to the hotel. The lobby looks okay. We have no choice but to pay them the money they ask of us—350 bucks. We go to the room. It looks okay. Okay, it looks maybe a little substandard. Okay, it's a dump. For 350 bucks.
At about 3 in the morning Ray is steaming more than ever… he's very annoyed with the fan that can't be turned off. I simply say, "It's all about your attitude. You have to quit thinking about the fan. You have to tell yourself if it wasn't for the fan, you'd be listening to the screech of car tires and most likely a gunshot or two." At this point he's not speaking to me.
The next morning he IS speaking to me and the only thing he has to say is "That was my absolute last trip to Europe. I'm never going again. Never. Ever. Again. I mean it. Never….Again." I know enough to keep my mouth shut. After 35 years with a person you finally figure out when to talk and when to shut up. And yes, I was 10 when we married.
The next day is uneventful. We arrive in Boise and alas……….no bikes! Ray spends the next week calling British Air every day and again they have no idea where in the world our bikes are. Literally.
Another week goes by and finally we receive a message from the small airport in Hailey, Idaho, "We have these big boxes with your names on them. Maybe there are bikes in these boxes. They've been sitting here for awhile so we thought we'd give you a call to pick them up."
Well, that's a relief. And these six months later Ray still says he's never leaving the country again. I bet I can talk him into it. Cause I won't keep my mouth shut about it— this is a time to talk—I'll just wear him down. Or maybe I'll say, "I'm making reservations for Italy. I presume you are still staying home." If there's one thing I know about Ray, it's that he hates being left out. He'll be game. I think. I hope.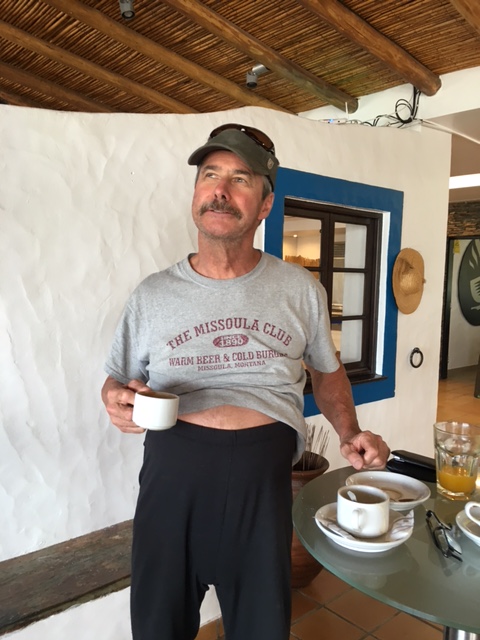 CAPPUCCINO IN PORTUGAL
He ordered a cappuccino and got a hot chocolate.
So he ordered another cappuccino and got two espressos. Both doubles.
He drank them all.
Then he pulled up his big boy pants and said "Let's Drive Baby."
_______________________________________________________
Mangled Bones in Late 2014 and Broken Bones in Early 2015
Excerpts from the letter I started for New Years in 2015 and did not finish.
In October of 2014, Ray had major foot surgery and wasn't allowed to walk or drive for 8 flipping long weeks! Yes, if I don't say so myself I was an incredibly dutiful wife who worked from home and slaved in the kitchen. But of course, there were days when I had to go to town (or I would have become a gun advocate), so I'd load Ray up with his knee scooter and drop him in the middle of town, where, not surprisingly, I later heard he harassed and heckled many a fellow human being. I suggested that he scoot around visiting our friends at their shops until he got bored, at which time he could scoot over to Lefty's for a beer and hang out with all of the other unemployed people who hang out in bars in the middle of the day. In short, his recovery was pretty hellish even though it is amazing what a good patient Mondo can be when threatened, not with the loss of his livelihood, but with the loss of what makes him tick…..skiing, biking and wind-surfing. And I was speaking of his foot recovery, not the recovery from hanging out at bars in the middle of the day.
Yes, for once Mondo followed the doctor's orders and as I write this he is up having a fantastic powder day on Baldy while I am sitting at the computer looking out at all the snow and wondering when this stupid orthopedic boot is going to come off my foot and I can ski again, too!
Last Monday I broke my foot in Austin, Texas. The actual story of what happened is so boring that I'll leave you with this visual instead: Imagine that a pissed off armadillo, a rabid bat, and a bottle-blond from Idaho meet in a dark alley. That's all I'm sayin'. And no, I did not fall off a bar stool or make a home run slide across the dance floor at a blues bar in Austin. The truth is so boring I can't bring myself to commit it to paper. Or the Internet.
So, it ends up that 2015 wasn't my favorite year. I won't go into all of the gory details, but in the space of about 14 months, we lost my 51-year-old, fit-as-a-fiddle cousin Jimmy, followed by the Best Dad in the World and two equally loved uncles. And our big gray cat Fritz is now chasing all of our bad dogs in dog heaven. The dead bad dogs. Not the bad ones still with us.
_______________________________________________________
I missed 2012 but here's part of my 2013 Holiday Letter that didn't make it to the post office.
It has been a few years since I've written my Holiday "story" and I have just figured out that my letters are really a gift to myself as I love to laugh and reminisce about the foolish things my husband does from time to time. Sorry, Mondo, it's the truth. You can write your own Christmas letter if you want to tell a different story or tell my story your way, but this Christmas letter is mine, all mine.
My First Kiss from an Italian, a Map, Four Flat Tires and the Crappiest Hotel in Umbria
This tale does not include a totaled car like our adventure in Tenerife. It does not include a cop in Calistoga knocking on the door of our old motor-home looking for Ray. This is just a story about a map, four flat tires, a kiss, and the crappiest hotel in Umbria.
So, we'd been in Italia for a few weeks and now found ourselves in the Umbrian hill town of Spoleto. We have a few rules by which we travel. No hotels that can accommodate tour buses and no hotel reservations. We find our hotels by ambling around town until something strikes our fancy. This heretofore bullet-proof plan backfired when we were in Spoleto.
At the Hotel Spoleto, I was taken in by the charming dining room with wide-plank floors and the beautiful patio surrounded by potted plants and geraniums. But we were duped by the front-desk man. I might add that the front-desk man wasn't an elegant Italian; he was more like an aging ex-porn star. I'm sure your imagination can conjure up a suitable image. The porn star image should have been a warning, but sometimes we don't trust our instincts, now do we? He showed us a room which was spic-and-span and expansive with a view and suggested we unload our luggage after lunch. But after lunch the aging porn star gave us the key to our "real" room, which was a tiny, disgusting dump with a view of the alley. Not the valley—the alley. The hotel, on first appearance, did appear grand and it probably was during its glory days. Now it is run-down and tired. I will never hear the end of my hotel choice from Ray just as I ridiculed him for finding the worst restaurant in Florence on a trip many years ago. Yes, there is one bad restaurant in Italy and Ray can tell you exactly where it's located.
But I digress. Yet again. The important detail just now is that I was kissed by my first true Italian. In Spoleto, home of the disgusting hotel. I had just finished my bike ride, a nice climb to the town of Monteluca with a flowing descent, which is my definition of the perfect ride. As I said, I had just finished my bike ride and I was tooling around town looking for an alternative to Hotel Bolshevik and a nice restaurant for dinner. I stumbled upon a small door in a big wall of stone, which turned out to be a charming restaurant with an intriguing patio, but alas it was closed at the moment.
When I peeked in the window, I was met by a leering man with a big nose. I will later recall the grin as more smarmy than friendly. He invited me in to view the patio. The Giro d'Italia bike race was on the television and I asked him if he had a favorite bike racer. He invited me to stay and we watched the final 10k of the race as I sipped a beer. After a few minutes he asked me where I was from and why I was alone. I think something got lost in translation. He must have thought I was cycling alone and my husband was back in Idaho. Ah well, no matter, I thought.
After a few minutes, he proceeded to tell me, "You, Sheila, you are a pretty, pretty, pretty woman." Yes, he said pretty not once but three times. Did I mention he was not the most handsome man in Italia? Did I mention that I had just finished a bike ride and I was sweaty with helmet hair?
At the end of the bike race I stood up to pay for my beer and he said, "Oh no grazie, I don't want your money. I would like a kiss."
"You are kidding, right?"
"No, just a simple kiss."
What harm could come from a simple kiss?
I leaned over to kiss him on the cheek and a nice innocent American hug. That's not what he had in mind. By now I am saying to myself, "Oh Sheila, how could you be so flipping naïve?" You guessed it; he wanted a fully engaged kiss and helped himself to a squeeze of my breasts like they were two Italian tomatoes.
The first clue should have been the grin. The second clue should have been the three "pretties'." I finally told him I would like to pay for my beer and he said, "Oh no, just another kiss. And please come to dinner tonight at my restaurant. My guest." Ha, not a chance.
Before I left I took his picture. He thought the photo was a remembrance; I thought it was evidence. Needless to say, we only stayed one night in Spoleto, what with the crappy hotel and creepy men.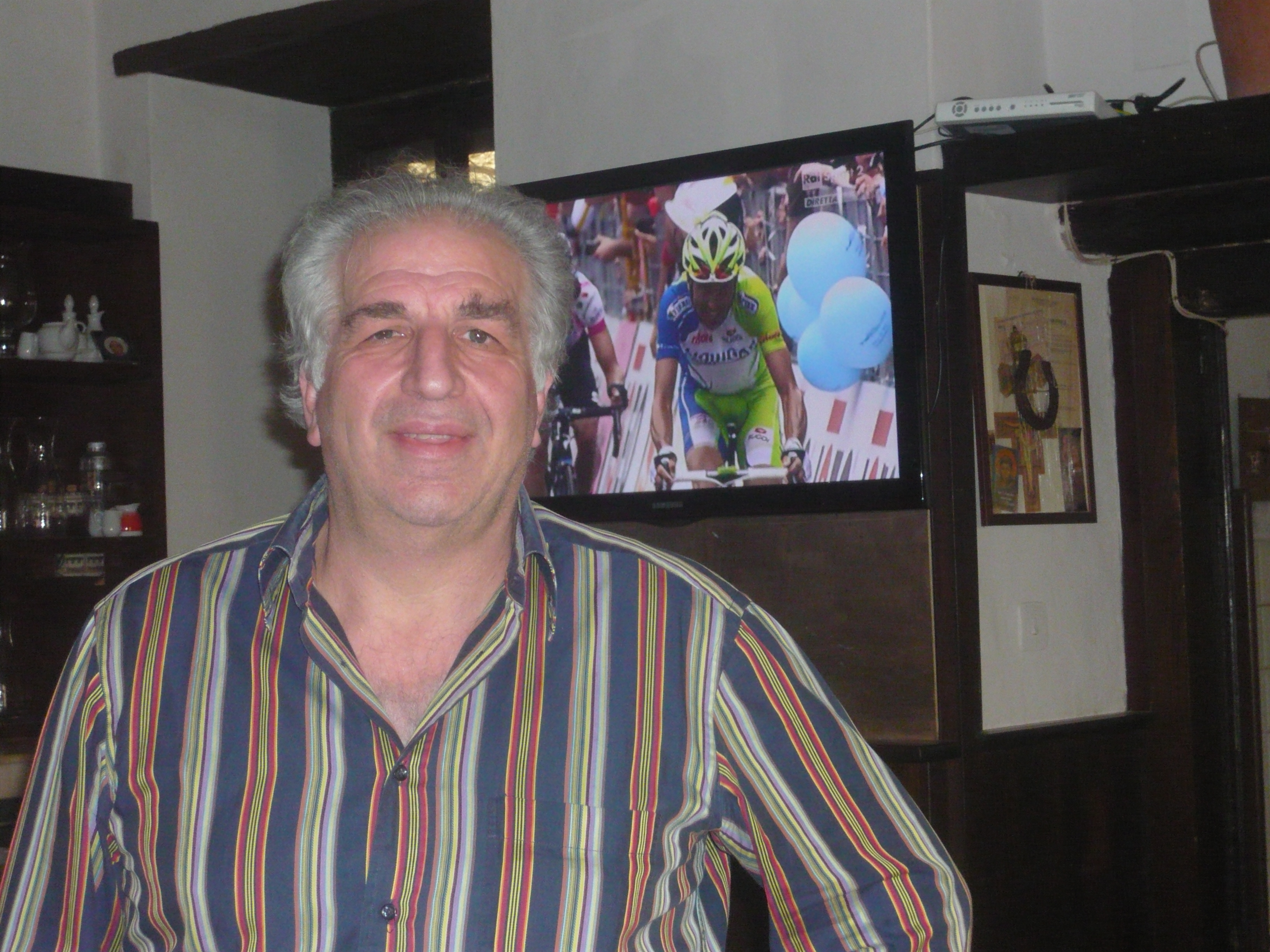 The Mapa Story and Four Flat Tires: As soon as we arrived in Italy, we drove straight to Lake Como. On our first day we decided to ride our bikes from the lake up to the Ghisallo Della Madonna, a chapel dedicated to cycling. The Ghisallo is reamed in cycling history and often plays out in Italian races. We had ridden this route many years before and I remember thinking back then, "Ah, that wasn't as steep as everyone says. That wasn't so bad."
This time, however, it was SO bad. It was steep and it was hot. I get cranky when it's steep and hot. And while Ray and I embark on cycling vacations together, it's like we are on two different vacations. I like to ride one hill climb a day and no more. I like to ride for part of the day, not all day. I like to ride and then retreat to town to look at Italian food, to think about Italian food, to eat an Italian lunch and then to find the perfect place to eat an Italian dinner. I like to amble about or read my book or sip a cappuccino. View another church. Pet another mutt.
Ray, however, likes to ride multiple mountain passes and he likes to ride for most of the day. And only then will he follow me to the perfect place for dinner. Our differences make us totally compatible traveling companions.
After the climb to the Ghisallo, Ray said, "Let's ride back to the lake by cutting across that FLAT (key word) plain and then swoop around to the lake."
I said, "Oh Mondo, that looks like another bloody mountain climb. I think I will just return to the lake the way I came."
Mondo said, "Oh No. I've been here before. (WTF? – He's been here before? Where was I?) That isn't a mountain pass. It's just a long gentle descent back to the lake."
Why I threw out my sense of reason and why I unquestionably listened to Ray say, "I've been here before," is probably another story and one beyond comprehension. Why I ignored the mountain in front of us was as naïve as my first kiss from an Italian.
We did end up cycling across flat terrain……………only to be faced with a long climb. Another long, hot climb. I was annoyed for not trusting my instincts. I mean I could just look at the view and know we'd have to climb over those mountains to get back to the lake. But I unwisely listened to the man with the map. Who had been here before. Or so he said.
It was even hotter on this second climb than the climb to the Ghisallo. I was getting more and more cranky. Ray would cycle ahead and then circle back to confirm that I was still on my bike and not in a pile on the side of the road. I was getting really pissy and said things like, "Mondo, you are like a Border Collie."
"What is that supposed to mean?"
With a snark I replied, "You ride ahead and then you circle back. To check on your master."
"Very funny, Sheila."
At one point I said to myself, "Mondo, you don't know it yet, but there are two flat tires in your future."
We were still climbing when Ray said, "Oh, this is good. When we get up to that curve in the road the sun won't be blasting on us any longer." He was pointing to a spot in the far distance. I retorted, "That's because it will be so late the sun will be down and it will be dark!"
When I'm really annoyed with Mondo, I call him Ray. With two syllables. Towards the end of the climb I said, "Ra-ay, why did you say you've been here before and why did you think you could get back to the lake without climbing this mountain? And why did I get myself into yet another pickle by relying on your map reading skills? This isn't the first time this has happened."
I did not get an answer.
Finally, we crested the top of the mountain and Ray sarcastically said, "Good job, Sheila. Keep up that great attitude."
Ray wants me to write that there was an amazing view from the top of the mountain of a very blue Lake Como outlined against the snow-covered Alps with big puffy clouds above like an ancient Italian painting. And he wants me to write that I really did appreciate the view. But when he tells me what to write I usually say, "Write your own flipping story, Mondo. This is my story and my story is that you have a hard time reading a map."
Finally we did have a long, glorious descent back to the lake. We were just about 1k from the hotel when Mondo shouted at me, "Hey stop. I have a flat tire." To which I thought, "Yes, I know, and you have one more in your future, too, Buddy."

The next day we rode again above the lake, but Ray had the good sense to part ways with me after one hill climb. When we rendezvoused in the late afternoon Ray said, "You won't believe it! You really won't! I had three (3!!!) flat tires today! Can you believe it —3?"
I said, "Really? Three? That's interesting. I would have thought just one."
"You probably think it's karma for yesterday."
"Well, Mondo, that is a possibility."
The Moral of the Story? Never underestimate the power of a woman's ability to put a hex on her husband's bike.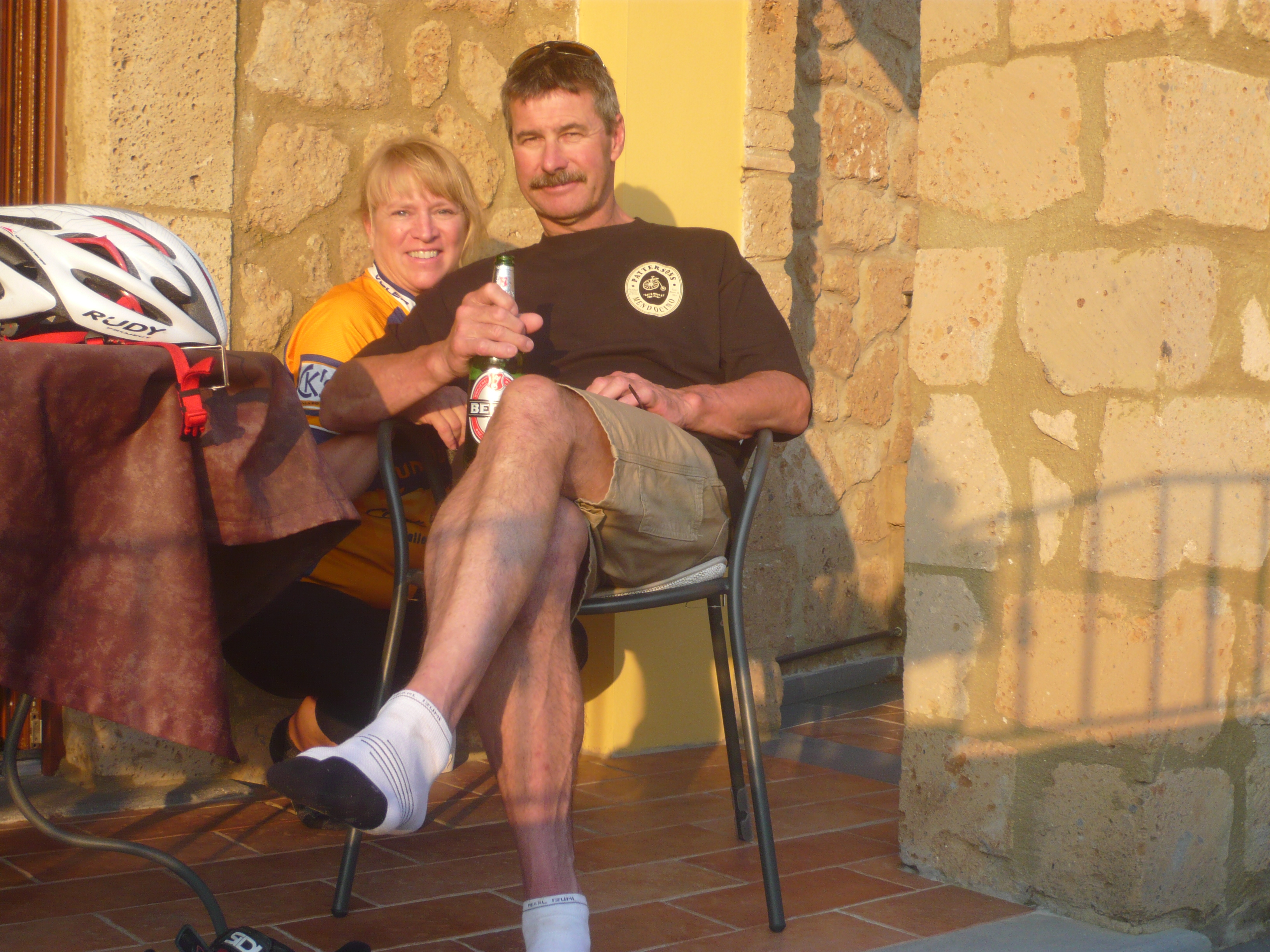 After a few days we left Lake Como and traveled to Lucca. On our very first trip to Italy we stopped in Lucca for lunch. It was a Sunday, late in the afternoon and early in the season. We found only one open restaurant and the proprietor said, "Only bolognaise." It was the best bolognaise we had ever eaten and it instilled such a fond memory of Lucca that we wanted to return. Whenever I make bolognaise at home I announce dinner in a loud voice "Only Bolognaise!"
Lucca is also base camp for a few professional cycling teams, so we figured the riding would be excellent. Armed with a map we set out along the river to head to the foothills. Well, actually I was going to the foothills; Mondo was going to the mountains. We soon found ourselves lost, only we didn't know it yet. A young rider in a BMC cycling kit stopped when we were looking at the map and said with an American accent, "Do you need help?"

While the guy in the BMC kit and Ray looked at the map, I looked at the kid. He was pure lean muscle and had a golden cycling tan the color of a good roux. I leaned over to look at his bike frame and sure enough his name was painted on it. I finally said, "Hey, you are a real BMC racer!" He introduced himself as Larry from Michigan and he said, "I'm just on the Under 23 squad," to which I said, "Don't say 'just.' You are riding in Italy with a BMC kit. You're the real deal."
You probably do not find it surprising that we were riding along one river on the map and another river in reality. Alas, there's Mondo's great map reading skills again. Larry sent us on a great ride; it just wasn't the one we had planned in the morning over breakfast.
______________________________________________________
The Abbreviated Start of My 2012 Holiday Letter
I didn't write a thing in 2010, and in 2011 I only got as far as to recount the conversation below. You probably need to know that there was a long time when I called our friend Scott "Wife #2." Probably because Scott and Ray deserve one another and because Ray spends as much time with Scott as he does with me. In any event, here's the guts of the conversation.
Ray: There is a BBQ Saturday night at Lulu's house.
Sheila: Sounds fun. Can I make something to bring?
Ray: I don't know. Scott is organizing it. He'll let you know.

Sheila: Really? Scott will let me know? Really? Do you think Scott is going put together a list of what we should bring? Really? Do you think Scott is going to contact all of us and let us know what we can bring? Really? That doesn't sound very likely. That doesn't sound like Scott.
Ray: Can't you just bring a slab of meat and some beer?
Sheila: I'll call Scott.
My later conversation with Scott:………..
Sheila: What can I bring to the BBQ?
Scott: What do you mean?
Sheila: Well, I was under the impression that you are organizing the BBQ.
Scott: I am.
Sheila: Well, what can I bring?
Scott: Why are you asking me? Don't you just bring beer and a slab of meat to a BBQ?

Sheila: Well………. do you want some side dishes?
Scott: What do you mean by side dishes?
Sheila: You know. Salads. Or maybe appetizers.
Scott: I don't know how to make a salad. Or an appetizer. I'm bringing beer and a slab of meat.
Sheila: Would you like me to bring a potato salad?
Scott: Sure. If you want. Or just a slab of meat. And some beer.
Sheila: Don't you want something else?
Scott: Whatever. I figure people will just bring a slab and beer. When I said I would organize it I just meant that I would pick a date and time. The BBQ is Saturday at 6. At Lulu's house.
Sheila: Does Lulu know these details?
Scott: Hum…… I'm not sure about that. See you Saturday.
______________________________________________________
Ray's Foot is the Reason I Didn't Write a Holiday Letter in 2014
Here's the actual letter I sent to Ray's foot doctor about six weeks into his recovery
Dear Doc Tim:

So.......... Ray left surgery with take-home instructions and I left with nada. Not a damned thing. Don't you think it would be beneficial if the caregiver was given some advice on how to deal with the situation? Do you medical people even think about these things? I am suggesting you should.
For instance, I would like to know if I could plead mental self-defense if I started hacking my husband up into small pieces? That is advice I would find helpful. Very. I recall that Ray signed some sort of waiver. Where's MY waiver? I wasn't really prepared for all this together-time. And I do not recall saying "in sickness and in health." Perhaps I did, but that was a long time ago and I am wondering if the statute of limitations has run out.
Further, it would have been helpful if the caregiver was given advice on how to deal with hearing "While you're up...." one-hundred times a day. In response to the 101th "While you are up," would it be a felony if I were to drive Ray into the high desert and leave him inside the car with the doors chained tight? I was thinking I could leave him breath mints for nourishment.
Also, since you are in the health industry, it would have been helpful to know how much therapy wine is too much therapy wine. Is there such a thing? I would have found this information very beneficial five weeks ago. Exactly, five weeks to the day, but who is counting? Is it a bad sign when the caregiver starts buying wine by the case?
So, I guess we'll see you in exactly one week. If you don't pull the pin out of his foot and give him the all-clear, I am giving you advance notice that I can't be responsible for my actions.
Most sincerely and quaffing right now,
Sheila Liermann
_______________________________________________________
I'm still selling real estate and Ray is still Two Dog Construction. Here's a note I sent out to our MLS a few years back which further illustrates our lives. I can't remember what year this letter didn't get sent.
IF I'M SLEEPING AT MY OPEN HOUSE TODAY, HERE'S WHY.
Last night I went to sleep as usual. At 2 AM I was awoken by a chirping smoke detector. No smoke. I went outside to get a ladder, struggled up the stairs with it and inspected the smoke detector. Dead battery. I went back downstairs and rifled through every drawer for a battery. No such luck. I went out to my husband's shop and scoured through it. No battery. I went back upstairs, found some ear plugs, closed the bedroom door and put a towel along the bottom of the door hoping to abate the chirping.

At about 3 AM, Fritz the Cat…..Yes, yes I now know that Fritz the Cat has some porn connotation, but when we named him 17 years ago I thought we were naming him after my husband's dear old dad. Again, I digress. Anyway, Fritz started scratching at the door. I got up, let him in and snuggled him against my shoulder thinking his purring would drown out the chirping. At 3:17 AM Fritz started licking my face. I guess I should be flattered that my cat loves me enough to groom me, but frankly it was unnerving. And he's old and has bad breath. I fell back to sleep. At 3:47 AM Fritz started scratching at the bedroom door and I let him out.
At 4 AM I thought I was going to lose my mind and I was totally annoyed that my husband had slept through EVERYTHING! The damn detector was still chirping and had set off all the other smoke detectors. The whole flipping house was chirping, so I couldn't go downstairs to sleep. Finally I took the dogs and went out to the garage to sleep in our vintage Motor Home, which we affectionately call the Mo Ho. It was hot in the garage. But quiet as garages go.
The dogs were a bit unsettled wondering why I would sleep in the garage in the Mo Ho when I have a perfectly good bed upstairs. They know it's a perfectly good bed. They sneak up on it whenever Ray is out of town. He would be really annoyed at this untoward dog behavior. He doesn't know they do this when he's out of town..... Well, I guess he does now. If he reads this. He doesn't get editing privileges with my holiday letter. It's mine. All mine.
At about 5:14 AM the dogs start barking. I was convinced that there is a cougar outside our garage. I have a huge fear of being stalked by a cougar. I've been told by a Fish and Game ranger that if a cougar stalks and GETS me it's not a problem because I will be dead before I know what hit me. I guess his point is that I have nothing to fear. Anyway, I went to the garage door and I didn't see a cougar. I saw nothing. But by now in my total lack-of-sleep condition I was convinced that there was a cougar out there and I was going to be trapped in the garage by it and wouldn't even make it to my Open House. I crawled back into the Mo Ho in the garage and tried to get a few minutes of sleep.
I got up at 6 AM and the dogs are still unsettled. I look out the door again and no cougar. But there was the cutest skunk peering back at me. Even though I was YELLING at that cute skunk I couldn't get him to leave. And actually he might have been a she. Anyway, I couldn't open the door for obvious reasons.
My husband wakes up at about 5:15 every morning. This time he didn't seem to think it was odd that I wasn't anywhere in the house. He did not rescue me from the skunk. He's on my list. Ray. Not the skunk. And this my friends is why you may find me at the open house asleep on the couch with my mouth agape and drool on my chin.
That's it. That's all I've got. Keep in touch - our emails are below.
So, until next year, or the year after, Merry Merry to You and Yours!

Love,
Sheila and Mondo
208.481.0450
TwoDogRay@gmail.com
208.727.7479