I've just listed a commercial property, which is a rare opportunity to own a premier parcel in downtown Ketchum. Commonly known as the "Java on Fourth" building, this property is located one block off Main Street and one block off Sun Valley Road. This is a prime development property in the core of the core of downtown Ketchum. Yes, location, location, location.
Here's why I think this property is a rare opportunity:
Commercial activity in the Wood River Valley is happening and people are optimistic. More on this below... I think our time has arrived! Here's a few other reasons:
Located right in the thick of the gallery district, great restaurants and boutique shopping, it doesn't get any more central than this property located at 171 East Fourth Street. (Sun Valley Road changes into Third Street which illustrates the central location of this property.)
The zoning is Community Core with Sub-District "Urban Residential." What's this mean to a buyer? First, three stories are allowed. And...
There are a myriad of uses from multi-family residential (on all 3 levels) to office and retail; from lodging to a restaurant. Swanky restaurant on the street level with a boutique hotel above? Coffee shop on the street level with offices on the second floor and a penthouse(s) on the third? Do you see what I see? There is a lot of flexibility in the allowed uses of this property.
The property sits on a coveted corner at a four-way stop. It's central, but a quiet location.
A penthouse and second story would have outstanding views of Baldy, Frenchman's and Griffin Butte to the north.
The income from the two two rental spaces in this building will offset carrying costs until the property is re-developed.
The business "Java on Fourth" is not included in the sale but Java is interested in renewing a lease at this primo location. As a bonus, there is a residential studio apartment above the coffee shop. Call Sheila Liermann at 208.481.0450 to obtain more listing and rental information. Click for the MLS Listing.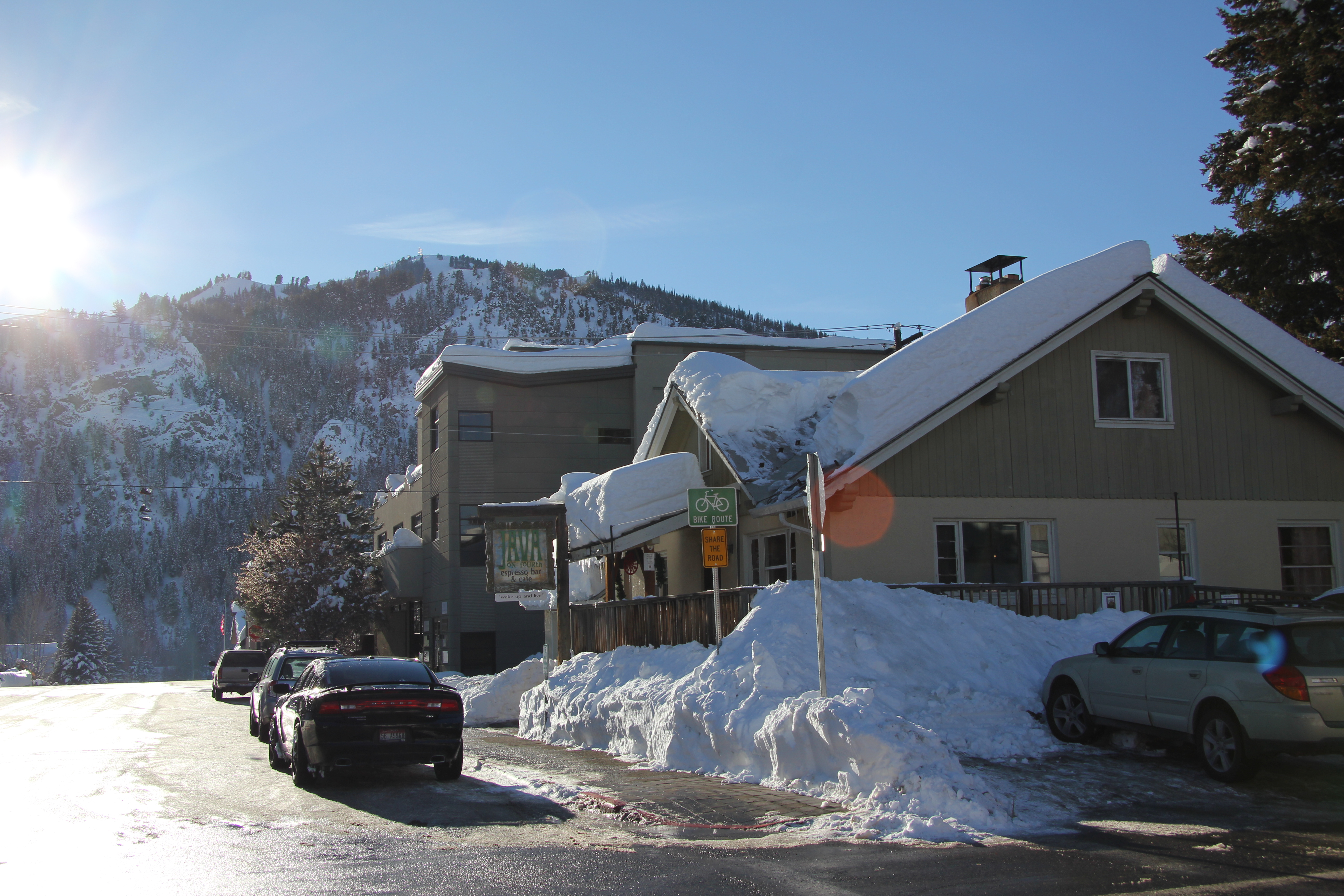 Did you read the article in the Idaho Mountain Express about recent commercial development in the Wood River Valley? There has been a lot of positive activity and here's why I'm bullish about this new listing on Fourth Street in downtown Ketchum:
According to the Mountain Express article, rents for retail space in Ketchum increased 16 to 20 percent in 2016.
The Limelight Hotel, built by Aspen Skiing Co., opened on Main Street in Ketchum in December 2016 and is already a hub of activity with live music, artisan pizza, crispy wine, and mutts and a few purebreds ambling about. It's just sooo Ketchum.
Last summer, the city of Ketchum issued a building permit for the Auberge Sun Valley hotel project, which will be built across the street from the Limelight.
For years, we've been given low marks for a lack of lodging and the commercial market responded! Aspen-based Haymax Capital acquired two established hotels in Ketchum—the Tamarack Lodge and the Bellemont Hotel. HayMax paid $4.1 million for the Tamarack in December 2015 and $4.45 million for the Bellemont Hotel in June.
Let's not leave Hailey out of the commercial activity mix in 2016. New Construction in Hailey included the Natural Grocers on Main Street; the expansion of King's; and the construction of a bright, big, red Wiseguy Pizza Pie.
And not to be left behind, a 57-room hotel is being constructed in Bellevue.
Click for the entire Mountain Express Article.