Save the Date:
Upcoming Sun Valley Events
As we near the end of the Sun Valley ski season, it's time to start planning our activities this spring and summer. There's a lot going on and here's what I have on my radar. Please check back for the schedule in the fall. After all, the fall is the best-kept Sun Valley Secret.

From the Visit Sun Valley website: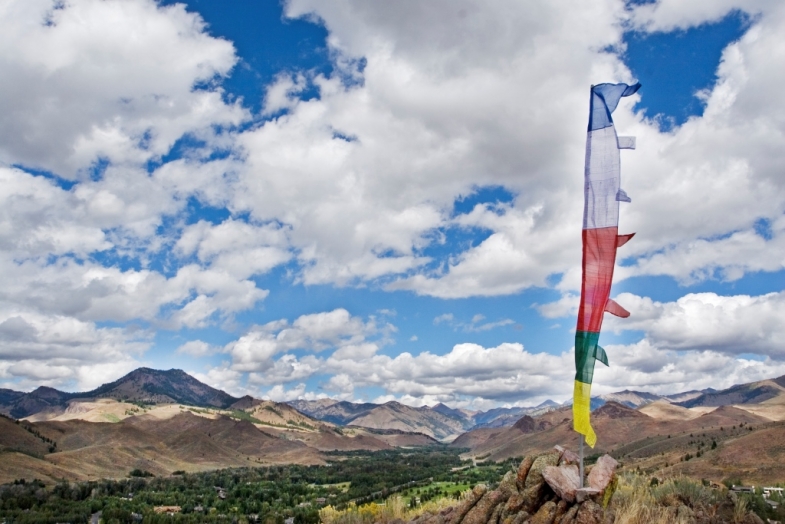 Sun Valley Wellness Festival
Fri, May 26, 2017 to Mon, May 29, 2017
For two decades the renowned Sun Valley Wellness Festival has inspired thousands of people to live healthier lives, and its upcoming 20th anniversary event will celebrate that milestone by featuring some of the world's foremost wellness speakers, including global media powerhouse and wellness advocate Arianna Huffington, co-presented with the Sun Valley Center for the Arts.

The four-day conference, held at the famous Sun Valley Resort on May 26 - 29, 2017, features top wellness experts with more than 30 presentations and workshops addressing diverse aspects of body, mind, spirit, and environmental wellness. The festival also offers movement classes, a Wellness Experience Hall, music, and more.
The 2017 keynote speakers are Arianna Huffington, one of the world's most influential women, Dr. Vandana Shiva, revolutionary global activist for environmental sustainability, and Wayne Pacelle, CEO of The Humane Society of the United States, and noted animal rights advocate.


Sun Valley Center For The Arts 36th Annual Wine Auction
Thu, Jul 20, 2017 to Sun, Jul 23, 2017
A Celebration of Wine ~ A Benefit for Arts & Education
Experience the breathtaking beauty of the surroundings while enjoying spectacular wines paired with food from world-class chefs. Delight in exclusive Vintner Dinners, an unforgettable Auction Gala and a lively Wine Tasting and Vine & Dine.
Let the good times roll and help us uncork summer in the mountains! Your participation in the Wine Auction festivities is vital to sustaining The Center's year-round arts and education programs for adults, youth and families. For more visit Sun Valley Center.


Sun Valley Summer Symphony
Sun, Jul 23, 2017 to Thu, Aug 17, 2017
With free year-round music education programs complimenting free-admission concerts, the Sun Valley Summer Symphony has claimed a place of world-class status in the North American classical music scene.
What really sets the Sun Valley Summer Symphony apart is the audience's affectionate rapport with the musicians, nurtured by Music Director Alasdair Neale, and felt by every artist who performs with the Sun Valley Summer Symphony.
2017 season:
In Focus Series: July 23-July 28
Orchestra Series: July 30-August 17


Ride Idaho
Sat, Aug 5, 2017 to Sat, Aug 12, 2017
Ride Idaho 2017! 7-days fully supported, Starts and ends In Ketchum/Sun Valley, August 5th - 12th
If you live in Idaho or just visit, you can never get enough of the Stanley Basin and the Sawtooth Mountains, and we'll help you experience it with a unique view from the handlebars of your bike as you pedal along the" Wild and Scenic Salmon River". We will start our first day of riding from Atkinson Park where we had camped that night. Riding up over Galena Summit you will have lunch at beautiful Redfish Lake before ending our first days ride in Stanley. Each night of the ride you'll enjoy great community prepared meals, a beer garden with nightly entertainment while you toast the days accomplishments with your 350 new friends. Day 2 has an optional Salmon River raft trip midway on the ride to Challis. Our other overnight locations include Salmon, Mackay, and Picabo before returning to Ketchum/Sun Valley. Sawtooth Brewery will help kick start the week by providing some of there great micro brew samples at the packet pick-up Saturday August 5th in the Ketchum Town Square from 2:00 to 6:00.
If riding the distance isn't for you, but you would love to experience the event, consider volunteering for the week, it's a blast!


49th Annual Sun Valley Center Arts And Crafts Festival

Fri, Aug 11, 2017 to Sun, Aug 13, 2017
Join the Sun Valley Center for the Arts as they present the 49th Annual Arts and Crafts Festival. This Festival is an outdoor juried fine arts and crafts show located in beautiful Ketchum, ID. The Sun Valley Center for the Arts values and honors the work made by the individual artists. No commercial agents are allowed. This popular community event also includes artists' demonstrations, live music, food vendors, and a children's activity area.



Wood River Valley Studio Tour

Tue, Aug 15, 2017 to Sun, Aug 20, 2017
The Sun Valley, Idaho area is home to an abundantly diverse collective of visual artists. Brilliantly illuminating the creative talent in the Sun Valley region, the ffith annual Wood River Valley Studio Tour opens the doors of professional artists' studios to the general public Saturday, August 19th and Sunday, the 20th, with a broadened calendar of art-centric events happening August 15th through August 20th, 2016.
Visitors from near and far travel by car, bicycle or on foot on self-guided adventures, exploring artists' working sanctuaries throughout the Wood River Valley. Extending from Bellevue in the south end of the valley to Ketchum in the north and all parts in between, visitors enjoy the rare experience of being in the environments where art is created while getting acquainted with the makers and gaining a close-up view of the materials and media artists employ.
Studio Tour - Saturday & Sunday, 8/19 & 8/20 from 10am - 5 pm
Artists' Group Exhibition - 8/15 to 8/20, Open daily from 10 am - 5pm
Reception with Artists - Friday, 8/18, 5 - 8 pm
Other Events during Tour week - TBD


2017 Total Solar Eclipse
Mon, Aug 21, 2017 - 12:00am to 12:00pm
Sun Valley is the place to be for the 2017 Solar Eclipse! The most beautiful place on the line of totality! Scope our blog for the full low-down on the Solar Eclipse:
Following information from www.eclipse2017.org:
There will be several eclipses that pass over the US in the 21st century. This is only the first, but it has been a long time coming! If you miss this one, you will only need to wait seven years for another, it's true - but why wait?! And besides, the total eclipse in 2024 will also be visible from Mexico and Canada (in fact, Mexico is in many ways a better place to watch that one from!). So come on out for this one, and enjoy what will truly be considered "The Great American Eclipse!"
People from all over the world begin to converge on the United States. Except for people returning home, visiting family, or conducting business at what happens to be just exactly the right time in history, these will be people who make it a point to travel to wherever the moon's shadow is going to touch the earth, and position themselves in a spot carefully chosen - sometimes years in advance - to ensure they see the sight.

These people will make contingency travel plans in case of last-minute clouds. These people will fill hotel rooms, sometimes inadvertently displacing locals from their homes as space gets harder to come by. These people will travel through miles of desert or forest or frozen wasteland, braving the harshest of conditions...for a short glimpse at the eclipsed sun.

These people are coming to America, because for the first time in 26 years, a total solar eclipse will occur in our great country, and we will play host to the world's eclipse-chasers. For those of us who already live here, but have never seen an eclipse, this is the opportunity of a lifetime - to see the most beautiful thing on the planet, and maybe not even have to get on an airplane to get to it!
August 21, 2017--Eclipse Day!
No human action can disrupt the incessant dance of the cosmos, and the moon's shadow will not wait on you if you're not ready. Like a mindless juggernaut, it plows its way through space toward a collision course with earth. As predicted by the astronomers decades in advance, the shadow arrives with perfect accuracy, and touches down in the north Pacific Ocean at 16:48:33 UT*, at local sunrise. (At that spot, the sun will actually rise while eclipsed. This is a sight few people - even veteran eclipse chasers - have seen, and from what we hear, it is quite uncanny.)

A minute later, the entire shadow (the "umbral cone") will have made landfall - er, ocean-fall - and will be racing across the surface of the water at supersonic speed. Except for folks on ships at sea, and the occasional ocean-dwelling critter who dares to venture too near the surface, nothing sentient will note the passing of the umbra - until land gets in the way.
2017 Total Eclipse in Idaho: What You Should Know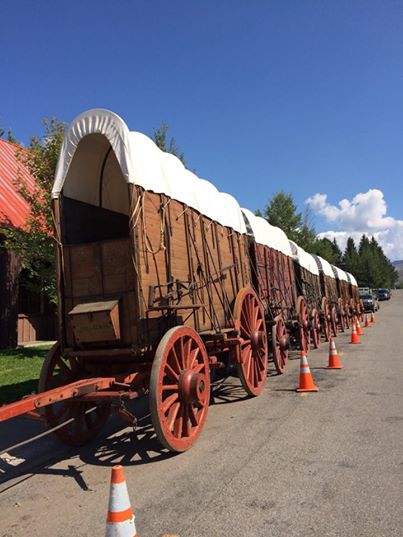 Wagon Days
Thu, Aug 31, 2017 to Mon, Sep 4, 2017
Welcome to yesteryear. Please join us Labor Day weekend as Ketchum celebrates the days before railroads or automobiles reached the town.

Come to Main Street and watch the largest parade in the country without motorized vehicles (on Saturday). Basque dancers, marching bands and western cowboys travel by horse, mule or foot – anything goes as long as there is no motor.
Enjoy a pancake breakfast in Town Square, a bareback riding demonstration, an arts and crafts festival, and an antique fair. Shop at our boutiques and art galleries. Go for a walk or a bike ride in the Idaho fall.
Whatever you do, you'll have a chance to experience Idaho history and a wonderful weekend.
And remember the BEST place to be during the Wagon Day's Parade is right in front of the Keller Williams Sun Valley office. I hope you'll join us for our annual BBQ.
And remember to check back in late August for Sun Valley events for September, October, November and December 2017.