Wagon Days in Sun Valley Celebrates 60 Years!
Summer officially starts with Memorial Day and then suddenly it's Labor Day. Summer in Sun Valley is jam-packed with live music, art fairs, antique fairs, the symphony, back-country runs, outdoor plays, indoor plays, and much, much more. This summer, as usual, we ran around like crazy working and socializing and as mid-August settles upon us, we realize that it's suddenly time for the 60th celebration of Wagon Days.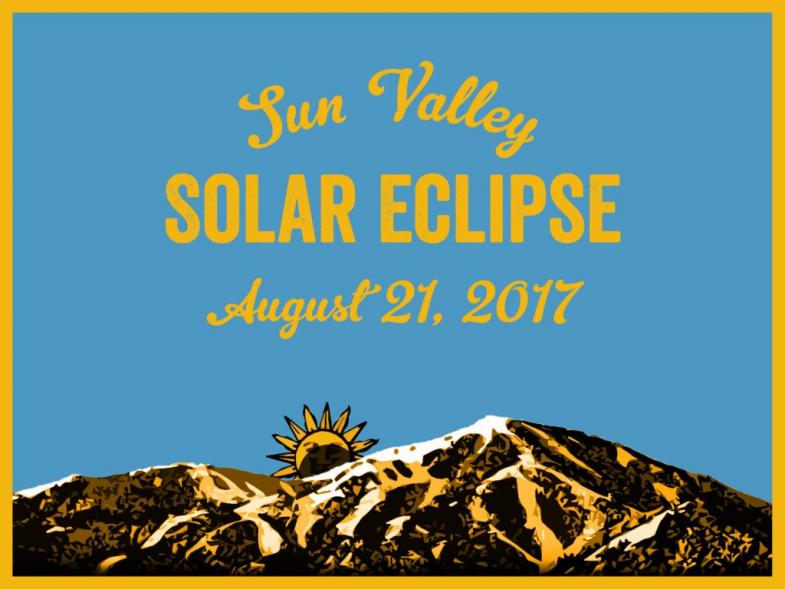 But first, let's celebrate the sun and the moon.
Next Monday, August 21st, the Wood River Valley is expected to host thousands for the solar eclipse. Sun Valley has to be one the prettiest spots in the line of totality, don't you think?
We live in East Fork and our neighborhood is having a potluck brunch on the morning of the eclipse and then we will amble down the road with our funny glasses and lawn chairs to watch the moon chasing the sun. Am I trying to avoid the masses by staying close to home? Frankly, YES! I'm already stocking up on fizzy water, Chappy the wonder cat's favorite food, and other necessities.
One of my favorite websites for a good simulation of the eclipse's path and time frame is Time.Com. Just plug in your zip code. And if you want good advice for what to expect in Sun Valley during the eclipse, Visit Sun Valley.

Back to Wagon Days......

Did you know that the Wagon Days parade down Sun Valley Road is one of the largest non-motorized parades in the country? Okay, Mardi Gras is pretty big, but does The Big Easy have covered wagons with six-foot wheels? To read more about the history behind our Wagon Day's Parade, visit WagonDays.net.
This year, as usual, there are a bunch of fun activities scheduled in Sun Valley for Labor Day, September 1-4, 2017. Here's a few of my favorites:
Friday, September 1, 2017
5 - 8 p.m. | Art Gallery Walk
Sun Valley Gallery Association hosts the Ketchum Art Gallery Walk. For more information visit Sun Valley Gallery Association

9 - 10 PM | 3HatTrio | LIVE at the Sun Valley Opera House
3hattrio (three hat trio) plays American Desert Music. Their aim is to create a new music which responds to the natural world of their sacred homeland near Zion National Park in southern Utah. The music is spacious, atmospheric, mirage-like, spiced with old-time cowboy, classical, jazz, and Caribbean overtones. Visit SunValley.com.
Saturday, September 2, 2017
8 a.m. - noon
Papoose Pancake Breakfast at Wagon Days
Ketchum Town Square
Start Wagon Days Weekend right with an all-you-can-eat country breakfast and live music by the Papoose Club! All proceeds benefit local youth.
10 a.m. - 1 p.m. & after the parade - 5 p.m.
Children's Activities at 4th Street and East Avenue in Ketchum
There will be free events and activities for children, including mini train rides and Wagons Ho! This event is designed to help kids experience some of the challenges and rewards that early settlers faced.

1 p.m. | THE BIG HITCH PARADE
The largest non-motorized parade in the Northwest, the Big Hitch Parade starts with local entries reminiscent of all tiny town parades and ends with six gigantic Lewis Ore Wagons roaring down Sun Valley Road as the grand finale. Come see why our population explodes to 10,000 during Wagon Days.
Directly after the parade. Around 3 p.m. (after parade)
FREE CONCERT & STREET PARTY - Lukas Nelson and The Promise of the Real at the Ketchum Town Square on East Ave.
The street party begins after the parade and features Lukas Nelson & The Promise of the Real. We just saw Lukas Nelson at the Targhee Music Festival and you'll see us at the Ketchum Town Square for sure! For More.
Sunday September 3, 2017
8 a.m. - noon | Pancake Breakfast at the Ketchum Town Square
Another Papoose Pancake Breakfast at the Town Square, promising to be as yummy as Saturday's all-you-can-eat country breakfast. Love music, too. And again, all proceeds benefit local youth.
9 a.m. - 7 p.m. | Silver Car Auction
Cars include vintage classics, classics, sports (US & Euro), exotics, luxury and muscle. An upscale, but casual collector car auction with celebrity flair in a setting only Sun Valley Resort can offer.

Noon - 7 p.m.

Rebecca's Private Idaho | Ketchum Town Square
Ride 100 miles with Ketchum's own mountain bike endurance champion Rebecca Rusch on grueling gravel roads, through canyons, over summits, and across high mountain basins. When you're done, expect a healthy dose of western hospitality and the good feeling that comes from supporting charities like the Wood River Bike Coalition, Bikes Belong, and World Bicycle Relief. The ride finishes on East Avenue in the center of Ketchum with food, drinks, live music and the evening ends with a heel-kicking game of Gelande Quaffin. Don't know what Gelande Quaffin is? You should really go - it's kinda crazy. For more, Click Here.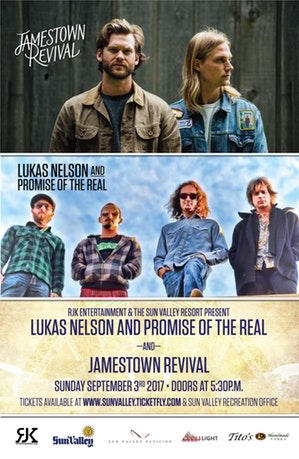 If you liked Lukas playing for free earlier........
RJK Entertainment & The Sun Valley Resort Present Lukas Nelson & Promise Of The Real And Jamestown Revival at 5:30.
For Tickets.
And check back for my "Events in Sun Valley" blog for September thru December.