Events in Sun Valley for November and December
What's Happening in Sun Valley?
It's that time of year that some people call "slack," but I call The Looking Forward season. I'm looking forward to the Thanksgiving Day Turkey Trot in Hailey, the opening day of Bald Mountain, followed in fast order by the all Sun Valley traditions surrounding Christmas and New Years. And there's a bunch of interesting events in between so keep reading.
HAILEY TURKEY TROT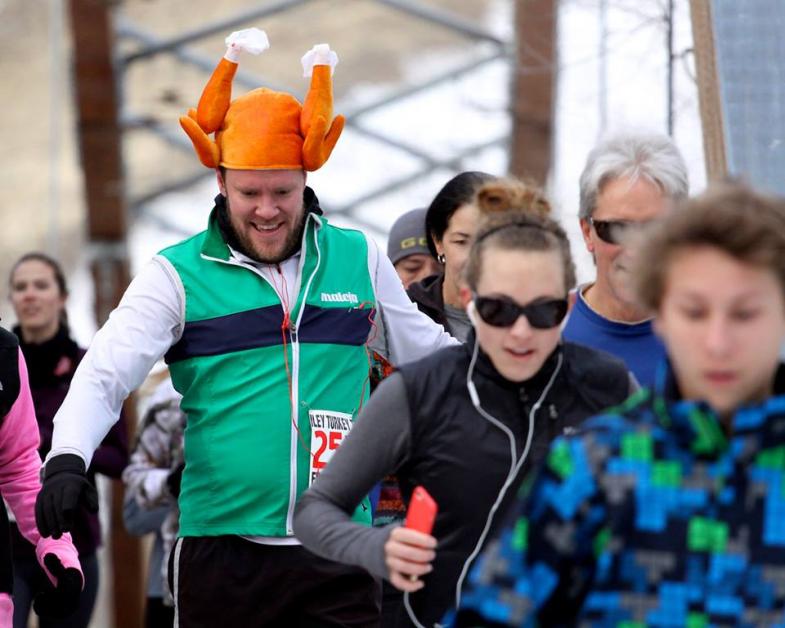 Join us on Thanksgiving Day for the 14th annual Hailey Turkey Trot.
Held on the morning of Thanksgiving each year, this great community event brings out over 650 participants to run, walk and stroll the beautiful 5K (3.1 miles) course through downtown Hailey and the Draper Preserve. It's the perfect way to burn off some calories before you stuff yourself silly.
Register early to get the cool Turkey Trot swag.
SUN VALLEY'S WINTER SEASON OPENING DAY
Sun Valley's opening day for the 82nd ski season on Dollar Mountain and Bald Mountain is Thanksgiving Day, November 23, 2017. Worried that you legs aren't quite ready for a top-to-bottom? Check out this video for inspiration with Sun Valley Athlete Teton Brown as he explains his dry land training routine and why he's stoked for this upcoming season.
Apres-Ski Music Schedule for Nov & Dec
Live at the River Run Lodge (Unless otherwise noted at Warm Springs Lodge)
Featuring:
Thursday, Nov. 23 | DJN8

Friday, Nov. 24 | Dylan Jacobsen

Friday, Dec. 15 |Something Like Seduction

Saturday, Dec. 16 | Emily Stanton Band

Sunday, Dec. 17 | Emily Stanton Band

Friday, Dec. 22 | High Mountain Heard

Sunday, Dec. 24 | DJN8 at Warm Springs Day Lodge

Tuesday, Dec. 26 | Bread & Circus

Wednesday, Dec. 27 | Bread & Circus

Saturday, Dec. 30 | The Social Animals

Sunday, Dec. 31 | DJN8 at Warm Springs Day Lodge
FULL MOON DINNERS AT GALENA LODGE
Start Saturday, Dec 2, 2017 at 6:30 PM
See you at Galena Lodge for one of their incredible Full Moon dinners. Guaranteed to be a magical night and one of my favorite evenings of the winter.
A night of food, fun and maybe skiing or snowshoeing if you can muster the energy. Dinner is one seating at 6:30pm and seating is communal style so be prepared to make some new friends. Dinner is a set 4-course menu with your choice of entrees. Cost for dinner is $45/person (you'll agree it's a deal after you taste what they put of that old cabin-y kitchen!) not including drinks, tax or gratuity. Galena has a fantastic wine list, beers on tap and a full liquor bar. Reservations are recommended for this dinner.

Sat, Dec 2, 2017 - 6:30pm
Sun, Dec 3, 2017 - 6:30pm
Mon, Jan 1, 2018 - 6:30pm
Mon, Jan 29, 2018 - 6:30pm
Tue, Jan 30, 2018 - 6:30pm
Wed, Jan 31, 2018 - 6:30pm
Thu, Feb 1, 2018 - 6:30pm
Fri, Feb 2, 2018 - 6:30pm
Sat, Feb 3, 2018 - 6:30pm
Thu, Mar 1, 2018 - 6:30pm
Fri, Mar 2, 2018 - 6:30pm
Sat, Mar 3, 2018 - 6:30pm
Contact and Reservations | G
alena Lodge
Ph. 208-726-4010 or Erin@galenlodge.com
SUN VALLEY CENTER FOR THE ARTS PRESENTS MARK O'CONNOR WITH THE O'CONNOR BAND | Sunday, Dec 10, 2017

Mark O'Connor is a renowned and revered bluegrass, jazz and country violinist and fiddler, a composer and music teacher. Backed by his Grammy Award-winning O'Connor Band, Mark O'Connor puts on an engaging, dynamic show showcasing compelling arrangements, virtuosic solos, and tight vocal harmonies. The O'Connor Band's debut album, Coming Home, hit No. 1 on Billboard's Top Bluegrass Albums chart in 2016 and won Best Bluegrass Album at the 59th Annual Grammy Awards in 2017. This award was in addition to Mark O'Connor's other two Grammy wins: one for Best Country Music Performance in 1991 and for Best Classical Crossover Album in 2000.
Buy Tickets to the Mark O'Connor Concert
TREE LIGHTING CEREMONY at the Sun Valley Village | Dec 17, 2017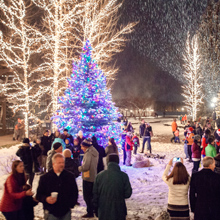 Featuring Santa, Sun Valley Carolers, live holiday music, ice carving demo, free cookies & hot cocoa, free "Wrap-n-Run" gift wrapping at Signatures benefiting Girls on the Run Wood River Valley (1-6 pm) and no-host outdoor bar. Festivities begin around 5:30pm with Tree Lighting to follow.

sTRIKING 12 | pRESENTED BY THE sUN vALLEY cENTER FOR THE aRTS
Dec 14 – 31, 2017 | The Liberty Theatre in Hailey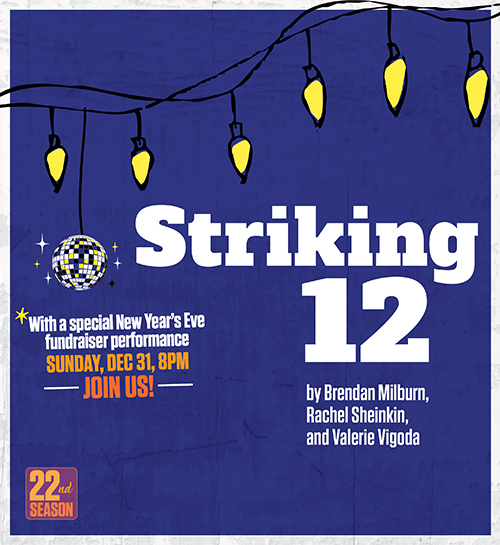 Inspired in part by Hans Christian Andersen's "The Little Match Girl," Striking 12 is a theatre-concert hybrid that springs to life through its rock band cast who tell the story of an overworked New Yorker who has resolved to spend New Year's Eve alone, when an unexpected visitor brings much-needed hope and cheer. This uniquely musical urban fairytale co-written by Tony Award-winning book writer Rachel Sheinkin (25th Annual Putnam County Spelling Bee) with an eclectic and electric score by Valerie Vigoda and Brendan Milburn of the indie band GrooveLily, weaves three stories and settings—contemporary New York City, 19th century Denmark, and the Liberty Theatre right here in Hailey—into one magical, rock-tastic, playful, family-friendly holiday event. Striking 12 Tickets and Info.
SUN VALLEY SUNS HOCKEY | Starting Dec 1st

All Suns home games at the Campion Ice House at 771 South Main in Hailey begin at 7 p.m. There are three 20-minute periods. Games last two-and-a-half hours. Ticket prices are $10 adults, $5 for children, or free for kids 10-and-under accompanied with a paying adult. Only cash or checks are accepted, no credit cards.
December 1–2, Bozeman Stingers | Home

December 8-9, Breckenridge | Home

December 15–16, Jackson Hole Moose | Away

December 23, Future Suns | Home

December 29–30, Jackson Hole Moose | Home

January 5-6, Vail Yeti's | Away

January 12–13, Off

January 19-20, East Coast Guttersnipers | Home

January 26–27, Bozeman Stingers | Away

February 2-3, Off

February 9-10, Holy Cross Crusaders | Home

February 16-17, St. Nicks Hockey Club | Home

February 23-24, Boston Tide Hockey Club | Home

March 2-3, Vermont Switchbacks | Home

March 9-10, BDHL CHAMPIONSHIP | Home
SUN VALLEY SANTA PUB CRAWL
This visual is all the explanation required.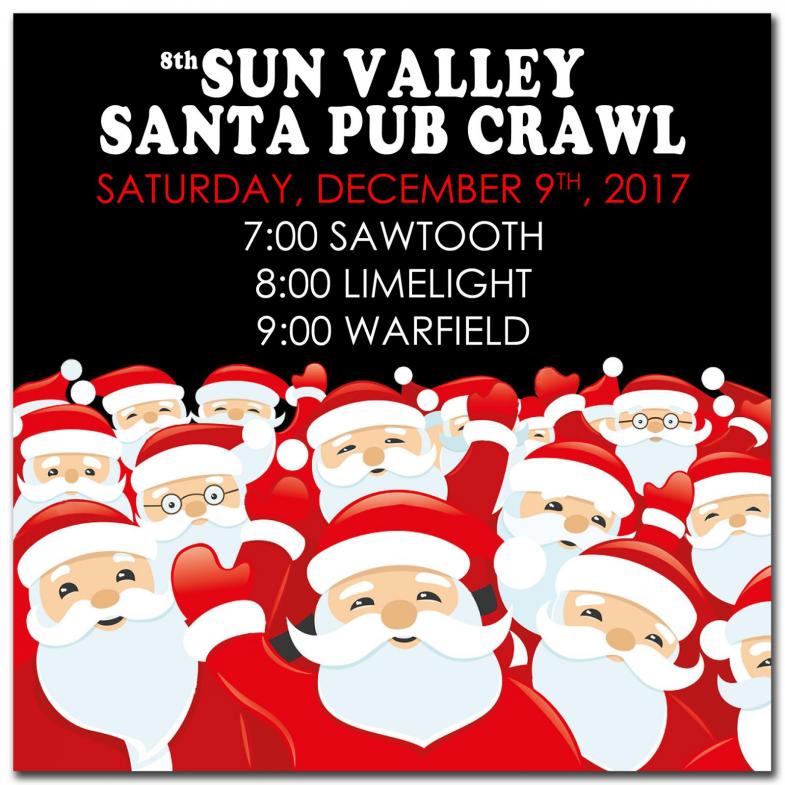 A CHRISTMAS CAROL | Dec 19 – 24, 2017

Save the Date for the return of "A Christmas Carol the Musical"! A Wood River Valley tradition, the Laughing Stock Theatre Company is proud to present this timeless musical and legendary holiday tale full of song, humor and suspense which was original written by Charles Dickens.
Why do we love this holiday tradition, which brings all ages together?
"A Christmas Carol" was first published in 1843 as a novella and rapidly became a holiday favorite, which brought Charles Dickens prosperity late in his life. Dickens, himself, a frustrated actor made money touring the English countryside performing a one-man reading of his story. Today, it is the most adapted of all Christmas stories and continues to touch hearts no matter how often it has been seen.
SUN VALLEY GALLERY ASSOCIATION GALLERY WALKS | Starting Friday, Dec 29, 5-8 PM

Each year the Sun Valley Gallery Association hosts seven gallery walks, which are eagerly anticipated and free to the public. Locals and visitors alike take in thought-provoking exhibitions of newly installed art, enjoy wine, mingle with friends, and often meet the artists.
And the Galleries are:
Upcoming Schedule for the Sun Valley Gallery Walks:
Fri, Dec 29, 2017 - 5:00pm to 8:00pm
Fri, Feb 16, 2018 - 5:00pm to 8:00pm
Fri, Mar 9, 2018 - 5:00pm to 8:00pm
Fri, Jul 6, 2018 - 5:00pm to 8:00pm
Fri, Aug 3, 2018 - 5:00pm to 8:00pm
Fri, Aug 31, 2018 - 5:00pm to 8:00pm
Fri, Nov 23, 2018 - 5:00pm to 8:00pm
Fri, Dec 28, 2018 - 5:00pm to 8:00pm
Don't miss out on a Sun Valley event. Visit these websites.
Visit Sun Valley or Sun Valley Resort
Respectfully Submitted:

Sheila Liermann on November 17, 2017