Ketchum and Sun Valley Trivia
Did you know this?
This excerpt is straight from the VisitSunValley.com website, which is a great resource for what's happening in Sun Valley, Ketchum and Hailey.
We love our trivia, so are here are few fun facts about Sun Valley, Idaho:
Sun Valley was the first ski resort to build a chairlift, which was adapted from a system used to haul bananas onto ships in Panama.
The first lift ticket price at Sun Valley in 1936 on Proctor and Dollar Mountains was 25 cents.
Sun Valley has the largest automated snowmaking system in the world.
The name "Sun Valley" was thought up by a New York PR agent, Steve Hannigan, who thought the name appropriate for a place that receives 250 days of sunshine a year.
Sun Valley Resort's uphill lift capacity on Bald Mountain is a staggering 21,580 skiers per hour, but averages only 3,500 skiers per day. Result: no lift lines with highest per person uphill lift capacity of any resort anywhere.
The first woman to win a gold medal in the winter Olympics, Gretchen Fraser, hailed from Sun Valley. She continued to mentor Sun Valley's female skiers for many years, including champions such as Susie Corrock, Christin Cooper, Picabo Street, and Muffy Davis, giving them Tiffany gold four-leaf clover pins that assuredly had Fraser's golden touch. She is buried near Ernest Hemingway in the Ketchum Cemetery.
Sun Valley has had a snowboarder in every winter Olympics since the discipline became an Olympic sport. In 2014 our own Kaitlyn Farrington won gold in the women's half pipe.
39 living Olympians call Sun Valley home.
The dual lens, non-fogging ski goggle took off here a innovation which made skiing/riding the most epic conditions possible. Smith Optics, the inventors, was based here from 1965 until 2015.
Powder Magazine was founded here.
Batman is in the local phone book and Bruce Wayne aka Adam West lived here until the end of his life.
17 leaders of Fortune 500 companies call Sun Valley home part of the year
136 current CEO's/Presidents of U.S. businesses covering a wide variety of sectors also call Sun Valley home part of the year
Movies filmed in Sun Valley
Also, there have been many movies filmed in the Sun Valley area, including such classics as:
"I Met Him in Paris" (1937) starring Claudett Colbert
"Sun Valley Serenade" (1939) starring Sonja Henie
"How to Marry a Millionaire" (1953) starring Marilyn Monroe, Betty Grable, and Lauren Bacall
"The Tall Men" (1956) starring Clark Gable and Jane Russell
"Bus Stop" (1956) starring Marilyn Monroe
"Ski Party" (1965) starring Frankie Avalon
"Pale Rider" (1985) starring Clint Eastwood
"Town and Country" (2001) starring Warren Beatty and Goldie Hawn
20 Things You Didn't Know About Sun Valley
Again, this fun trivia is straight from the VisitSunValley.com website.
1. Some of the best skiers and snowboarders in the world live here.
Fifty-six former and current Olympians hail from Sun Valley, including the 2014 snowboard halfpipe gold medalist Kaitlyn Farrington. Every Olympic medalist from Sun Valley is awarded their own run on Bald Mountain, a tradition that spans 70 years, from Gretchen Fraser's gold medal in the 1948 Winter Olympics in St. Moritz to Kaitlyn's most recent gold in Sochi. There are also numerous X-Games medalists, world champion Nordic skiers, and professional freeskiers that all call the valley home.
2. Sun Valley is where Powder Magazine was born.
In 1972, two brothers named Jake and Dave Moe launched Powder Magazine from a small office in Sun Valley. It would become the most successful ski magazine of all time and is still around, albeit no longer based here. Celebrating the people who made skiing cool and the coolest thing of all — skiing powder — Powder continues to inspire countless skiers with their motto: "If you're not having fun, you're fired!" Following in the footsteps of ski-film pioneers like Warren Miller and Dick Barrymore, both from Sun Valley, the Moe brothers started a ski revolution and Sun Valley became the smiling face of it.
3. The Dalai Lama has paid a visit.
The Dalai Lama's fondness for Sun Valley culminated in a visit a few years ago. The Garden of Infinite Compassion at the Sawtooth Botanical Garden holds a treasured prayer wheel that His Holiness blessed. Prayer flags and rock cairns on nearby peaks pay homage to the Mountain Kingdom of Tibet and its spiritual leader.
4. It's one of America's top small towns for art.
With over 20 galleries, two live theater companies, and one of the West's premier nonprofit arts organizations in the

Sun Valley Center for the Arts

, Sun Valley packs an enormous cultural punch for its small size. It doesn't matter if you enjoy live theater, modern art, or classical music, you can find it all here. Home to dozens of internationally renowned artists, even the local arts and crafts festival is chock full of talent.


The Christmas Eve tradition of the Dollar Mtn Torchlight Parade and fireworks lights up the valley. Photo: Jeff Caven courtesy Sun Valley

5. Big ski ideas are born here.
From the world's first chairlift, inspired by a banana transporter in Central America, to the first aluminum ski pole, double-lens goggle, collapsible ski, and countless advancements since then in equipment design, Sun Valley has always been a hot spot for innovation.
6. The fishing in incredible - even in the winter.
If you like to fly fish, you probably know about Sun Valley's gold-medal trout streams. From the Brown Drake hatch on Silver Creek, to the fantastic year-round fishing in the Big Wood River that runs right through the middle of town, and the headwaters of the Salmon River close by, the fishing in Sun Valley is every bit as amazing as the skiing.
7. Sun Valley is a training site for America's top Nordic skiers.

Since 2012, the US Olympic and Paralympic teams have used Sun Valley's extensive network of Nordic trails as an official training site. The Sun Valley Nordic & Snowshoe Center is also open to the public, with 25 miles of groomed trails and ski and snowshoe rentals available. Share snow with the best in the US!
8. Ice hockey is a big deal.
Sun Valley's only local sports team, the Sun Valley Suns, fills up the indoor ice rink during every home game with rowdy fans as they take on teams from surrounding ski towns like Jackson Hole and Park City, as well as the East Coast. There's also a thriving junior program and women's team, and the local outdoor rink in Atkinson Park has racks of hockey equipment that's free to rent and use for anyone.

9. There's a serious literature and writing pedigree here.
From cozy locally owned bookstores like Iconoclast and Chapter One, to the annual Sun Valley Writers' Conference and Ernest Hemingway's favorite and final resting place, Sun Valley celebrates and inspires the written word like few other places.
10. It's a geo-thermal "hot spot."
With 13 named and known natural hot springs in the area, not including the numerous well-kept secret spots, Sun Valley makes it easy to warm up in winter. No matter what you're up to on any given day — and there are a LOT of options — chances are you won't be too far from the healing waters of one of nature's beautiful hot tubs.
11. Sheep still cause traffic jams on Main Street in Ketchum.
Every fall, thousands of sheep clog the city streets as they're herded down from their summer pastures in the mountains. Now an annual festival, the Trailing of the Sheep celebrates a vibrant Basque culture and is an event that's changed little in the last century.
12. The Male to Female Ratio is pretty much even.
Far from the traditional gender gap found in ski-town sausage fests, Sun Valley is home to roughly the same number of women as men — which makes local life a whole lot more pleasant for everyone. But guys, beware: Most of the women in Sun Valley can ski better than you, are better educated than you, and are more independent than you.

13. American backcountry skiing started here in the 1930.
From Sun Valley's inception in the '30s, it's always been about more than just the resort. In fact, you can still hike to and stay in the legendary Pioneer Cabin, an iconic backcountry refuge that was built in 1937 by Sun Valley legend Florian Haemmerle to allow guests to explore and ski in the mountains around the resort. This legacy continues today with an extensive network of backcountry yurts in the five mountain ranges that surround Sun Valley.
14. Batman is in the phone book.
A masterful joke that's lasted 20 years, looking up Batman in the local Sun Valley phonebook will lead you on a hysterical goose chase through the entire book — from "Crime Fighter" in the yellow pages to "Wayne, Bruce, Millionaire" in the white pages and eventually "Adam West" (who called Sun Valley home for decades until his death this year), as each name leads to another. While you may never find the caped crusader's actual number, the fact that he's here in town might help you sleep a little better at night.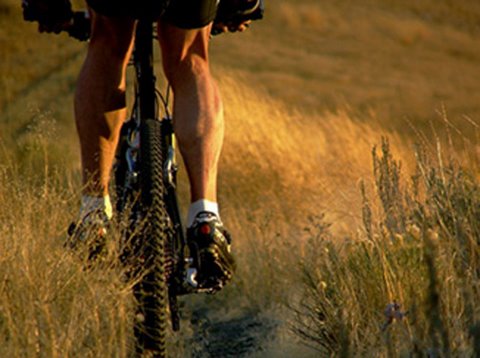 15. There are 81 holes of golf within six miles of Bald Mountain.
Standing on the top of Bald Mountain, you're less than six miles from an extraordinary 81 holes of golf, from Sun Valley's elegant Trail Creek course and the dramatic Elkhorn, along with the challenge of the White Clouds 9 holes, to the casual and forgiving Bigwood course and the high-profile private course at the Valley Club. A local springtime favorite is skiing all morning and then hitting the links for an afternoon round. There's even a tournament that combines racing down Baldy and a round of golf, with an all-around champion crowned every year.
16. The mountain biking is just as good as the skiing, which is saying a lot.
There are over 400 miles of trails open to mountain biking in and around Sun Valley, including the lift-serviced flow trails and single track at the resort. Technical single track, hair-raising descents, leg-crushing climbs, mellow jeep trails, and old lumber roads — it really doesn't matter what you like to ride, you can find it in Sun Valley.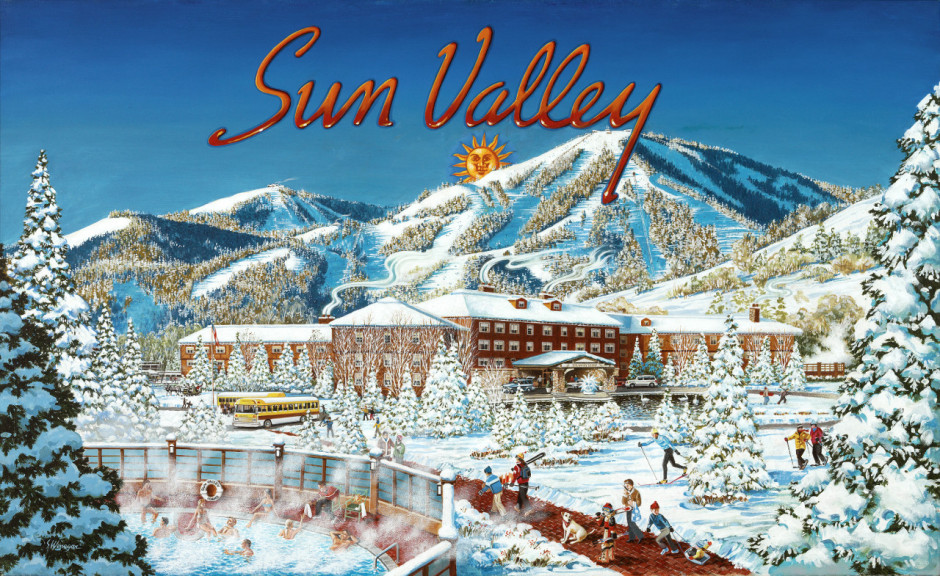 Blog Photo Credit: Passing from Darkness into Light. Photo by Nicholas Hawthorne