There's a New Business In Town | Welcome to Dog Life
Ketchum, Idaho, has also been called Dog Town USA. In fact, I don't think I know a person in town that hasn't had a least one dog through the years. We've had as many as three dogs at one time, but with my late-acquired wisdom I can now admit that three is too many.
In December, we lost our 15-year, 3-month, 15-day-old Aussie named Rhoady. We hope she made it to Dog Heaven, but truthfully, she had a chip on her shoulder and wasn't the sweetest dog. (Now you know why we were counting the days she was alive!) Who knows if dogs like that make it to Dog Heaven!
In any event, Rhoady left behind a mutt named Rosie, who is sweet, sweet, and more sweetness. In light of the fact that Rosie had come from the shelter and had never been on her own as a single-dog, we thought we'd get a new dog bed and have Rosie groomed so she'd feel like more of the family than ever.
Like many dogs, Rosie hates being groomed and I hate dropping her off at the groomer - she is practically humming with nervousness. But, I think we can all agree, a clean dog is a more lovable dog, so the groomer is a necessary evil.
Enter Justin Hellmann, the owner of Welcome to dog Life. Justin called me one day looking for warehouse storage to park his mobile dog-grooming van and shortly after that we had an appointment to pretty-up our mutt Rosie.
Justin brought his self-contained van to our house and spent a fair amount of time getting to know Rosie. I think you can see by the photograph below that Rosie felt really comfortable with Justin. In fact, she was trying to give him a kiss!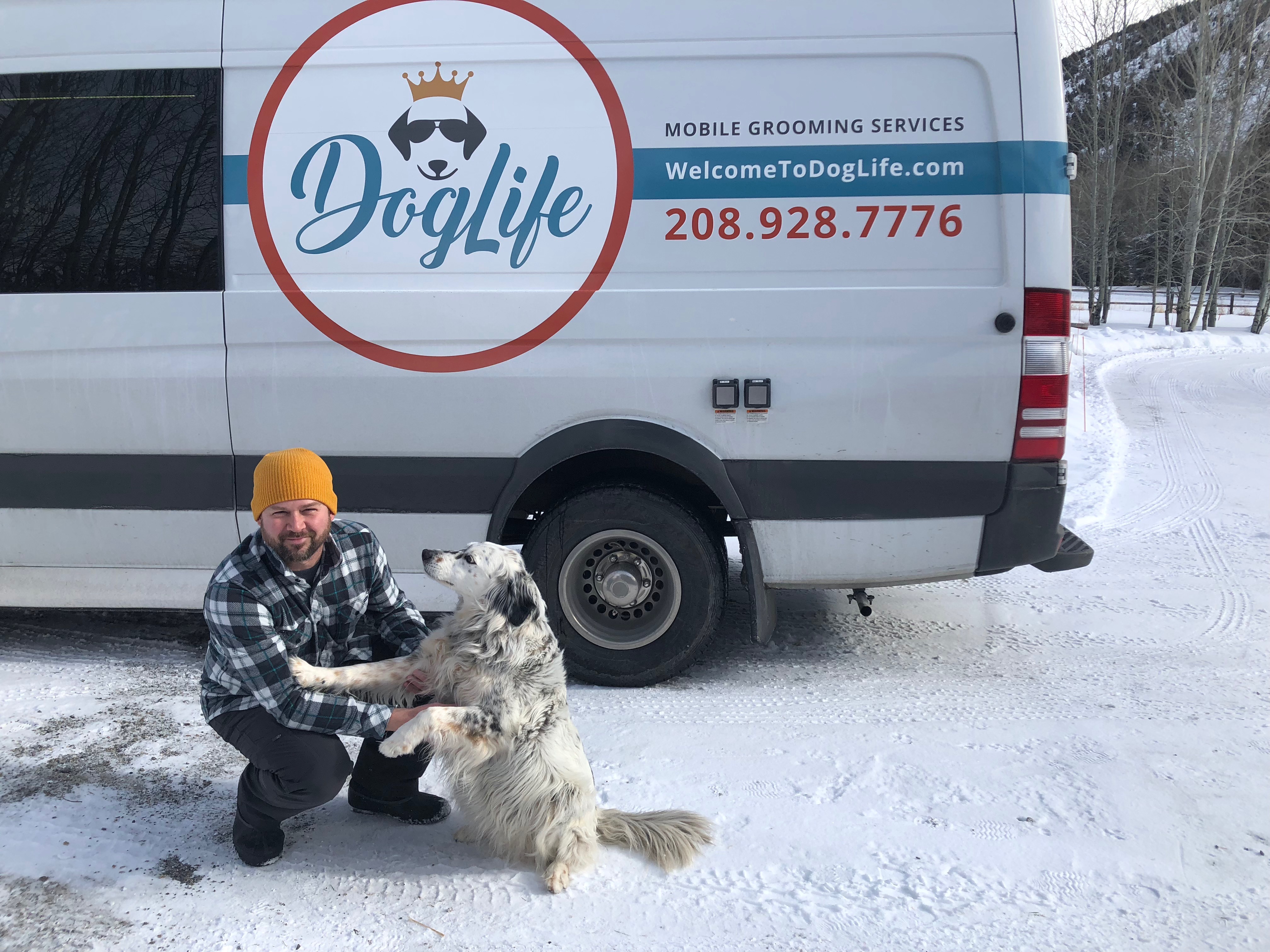 Off to work I went and when I came home at the end of the day, Rosie was beautiful and joyful. Her fur was like silk and she smelled like a perfume apothecary.
I highly recommended Justin and his mobile van for anyone who has a nervous-nelly dog or if you have a tight schedule. His business card is at the bottom of this blog post.
For details, please visit Justin's website, WelcomeToDogLife.com.
And if you don't have a dog, what are you waiting for?
Visit the Animal Shelter of the Wood River Valley's website.
Finally, if you need a new home anywhere in the Sun Valley area with a fenced yard for your newly adopted dog, give me a call and I'll work on finding you the perfect HOME.
HOME is where our stories begin.
A lot of my stories include a dog.... like that time we were camping in California and the cops knocked on our motor home door around midnight. But that's another blog post. Or maybe not.
Respectfully submitted,
Sheila Liermann | Sun Valley Real Estate Agent & Broker