Tensions in Europe and Trade Issues Keep Markets on Edge
By Greg Richardson - EVP of Capital Markets
I am re-blogging this post from Movement Mortgage. Having just returned from a bike trip to Italy reminds me that a tourist may get to see all the great sites and eat fantastic food, but still not understand the unease beneath the surface. The world is certainly interconnected, isn't it? And Europe does affect our housing market here in the states. Keep reading.

__________________________________
A flurry of international news — from government crises to trade wars — mixed with the usual end-of-month payroll and housing news this week put financial markets on edge and kept rates in check.
There's a long list of events we could write an entire blog about. But I'll try to touch on each one briefly, summarizing what's at stake.
Italian concerns ease – for now
In Rome earlier this week, markets reacted sharply when anti-establishment parties seemed unable to establish a coalition government in Italy after upsetting the established party in spring elections. A far-right economic proposal was suggesting policies that would remove Italy from the European Union. And Italy's financial markets along with many others took a sharp downward turn. 10 year treasuries rallied on the news with a flight to quality trade.
However, late this week the two anti-establishment parties, the Five Star Movement and the League, found a majority consensus and installed little known Giuseppe Conte as the new prime minister. The coalition calmed market fears and equities in Italy recovered some ground.
Now, investors are watching to see if the tenuous new government can strike a balance between many competing interests. Bloomberg reports at stake is about $146 billion in government spending, how Italy's economic policies will fit in the EU, and the fate of Italy's sovereign debt, which is among the largest in the world. For now, the new coalition is a step towards stability, which markets enjoy, but the numerous political factions in Rome remain a delicate issue.
New PM for Spain
While Italy's turmoil has pivoted the nation right of the political center, a vote of no-confidence and a new prime minister in nearby Spain has moved the government more to the left.
A parliamentary vote of no confidence on Friday led to the ousting of prime minister Mariano Rajoy.
He was replaced by the leader of the opposition Socialist Party, Pedro Sanchez. A long-running corruption trial — known as the Gurtel case — found dozens of people linked to Rajoy's governing People's Party guilty of benefiting from illegal kickbacks, according to CNBC. That prompted Sanchez to push for a vote of no-confidence against Rajoy.
European markets have responded favorably to the change in power, as the new prime minister and his party are seen as more in step with the European Union.
Trade wars escalate in U.S.
Meanwhile this week, President Trump and his administration fired another round in its ongoing shift in trade policies. The Trump Administration on Thursday announced it will not extend tariff exemptions on steel and aluminum imports for Canada, Mexico and the EU.
Those nations, all U.S. allies, responded with sharp rebukes, with European trade officials calling the policy "protectionism" and Mexico and Canada responding with their own tariffs on goods such as Canada's steel and aluminum, and Mexico's pork bellies, apples, grapes, cheeses and flat steel.
While analysts believe the economic effect should be modest, the move sends a modestly negative signal regarding the trade policy outlook, according to a research note from Goldman Sachs. The developments have also added fears that renegotiation of NAFTA will now take even longer and global economic growth could slow as nations trade tariffs tit for tat.
Home sales disappoint
Real estate professionals hoping for a spring uptick in sales were disappointed on Wednesday when it was reported pending home sales declined 1.3% in April. Pending home sales measures the number of homes under contract and is seen as a leading indicator of closings over the next 60 days. Analysts had expected an increase in April.
Pending sales decreased in the Midwest (-3.2%), South (-1.0%), and West (-0.4%) while sales in the Northeast were flat. Low inventory continues to be an attributing factor to the dynamic of rising prices but slower sales.
Unemployment drops again
On Friday, U.S. nonfarm payrolls increased 223,000 and the unemployment rate fell to an 18-year low of 3.8 percent, the Bureau of Labor Statistics reported. Wages also increased about 2.7 percent, showcasing a strong labor market. The results beat analyst expectations.
A separate level of unemployment that adds in discouraged workers and those holding part-time positions for economic reasons fell to 7.6 percent, the lowest since May 2001.
Rate outlook
Investors now turn to the June meeting of the Federal Reserve. The strong jobs report and stable inflation outlook has increased the probability of a June hike to 94 percent. A September increase is now forecasted at 72.5 percent, and a fourth hike this year in December is at 37 percent.
All of these headlines created a week of volatility in the bond markets, as investors flocked to safety, such as US Treasurys, in the first half of the week, and then returned to equities as Italy's crisis calmed down and the U.S. jobs report impressed.
The yield on the 10 Year US Treasury, which is followed by mortgage interest rates, dropped as low as 2.77 percent early this week. However, it has rebounded to just over 2.9 percent in Friday morning trading. (See chart below) Still, the events this week may have slowed bond yields most recent steady climb to north of 3.1 %. We are sitting at a level today where a close north of 2.91% should move rates higher absent any new geopolitical risks.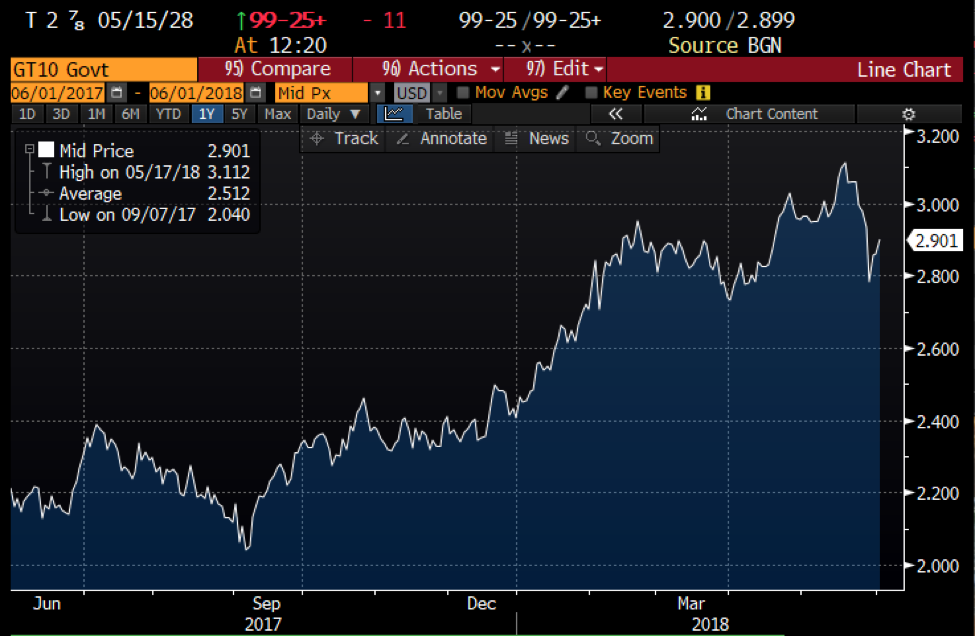 ABOUT THE AUTHOR:

GREG RICHARDSON - EVP OF CAPITAL MARKETS
Greg Richardson is Movement's EVP of Capital Markets and a contributing author to the Movement Blog. His weekly market update is a must-read commentary on financial markets, the mortgage industry and interest rates. Greg is an industry veteran who knows how to read the financial tea leaves and make complex industry data easy for loan officers, real estate agents and home buyers to understand.
Respectfully submitted,
Sheila Liermann | Sun Valley Real Estate Broker
208.481.0450 T