Here's how Keller Williams plans to take on Zillow and Redfin.
The Company acquired Smarter Agent

I am very thankful for the ways in which Keller Williams has enhanced my life, both professionally and personally. And I am very proud to be an investor in Keller Williams Sun Valley Southern Idaho.
Read these articles to see what Keller Williams is doing to help me better serve my clients. Keller Williams is more than a real estate franchise. Keller Willliams is now in the technology business! Move over Zillow and Redfin! Keller Williams is taking over the town.
And this all explains why Keller Williams is the #1 Real Estate Franchise in the United States.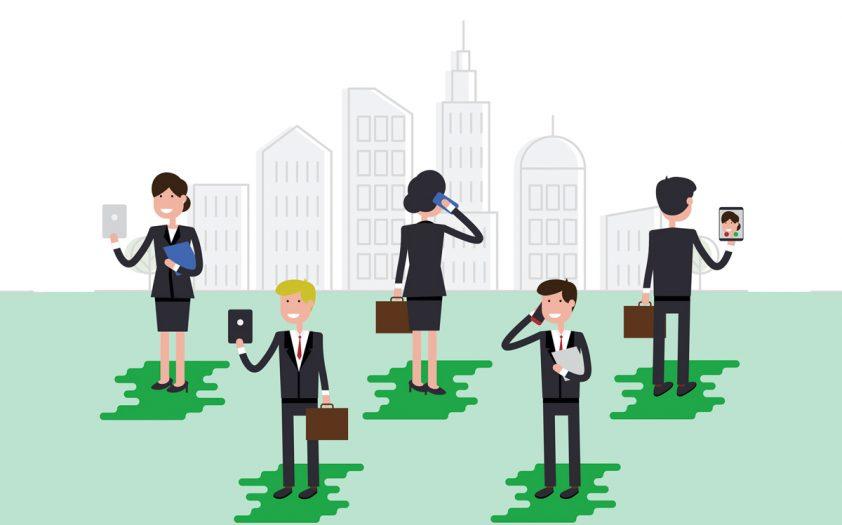 September 06, 2018 10:30AM
An Excerpt from THE REAL DEAL (New York Real Estate News)
Keller Williams wants to compete with Zillow and Redfin.
The brokerage acquired SmarterAgent, a platform that connects more than 650 multiple listing services and allows brokers and agents to create branded real estate search apps, Inman reported.
It's part of a larger effort from the company to invest in technology, Josh Team, Keller William's chief innovation officer, told Inman. He said the firm has acquired other tech platforms in the past four months.
"We're going to be launching our new consumer strategy in the first quarter of next year and mobile will obviously be a big piece of that," Team said.
SmarterAgent serves more than 300 other brokerages, and Keller Williams is now its largest client.
Last month, Keller Williams said it will join eXp Realty and Real in launching virtual brokerages in every U.S. state to connect brokers looking to expand outside of their own markets. It will be available in the company's 166 expansion businesses, representing 509 locations and 3,433 real estate agents.
The brokerage reported $98.3 billion in sales volume in the U.S. and Canada in the second quarter — up 8.7 percent from a year earlier. [Inman] — Meenal Vamburkar
And this just published by Seeking Alpha:
Zillow slips more than 7% as Keller Williams crashes mobile space
|By: Jason Aycock, SA News Editor
A steady decline today has brought Zillow shares to seven-month lows (Z-7.4%, ZG -7.8%) today after real-estate firm Keller Williams made its mobile move with an acquisition of the SmarterAgent platform.
Tech-focused real estate brokerage Redfin (NASDAQ:RDFN) is 1.2% lower today as well.
Keller Williams' deal is one of a string in recent months, and it points to a new approach ahead. "We're going to be launching our new consumer strategy in the first quarter of next year and mobile will obviously be a big piece of that," says KW Chief Innovation Officer Josh Team.
Keller Williams is now the biggest client of SmarterAgent, which serves more than 300 other brokerages.
An Excerpt from HousingWire
Keller Williams teams with AI firm to tap new data trove
KungFu.AI will provide a tech solution for reading real estate contracts to create a new pool of data.
September 6, 2018 by Jeremiah Jensen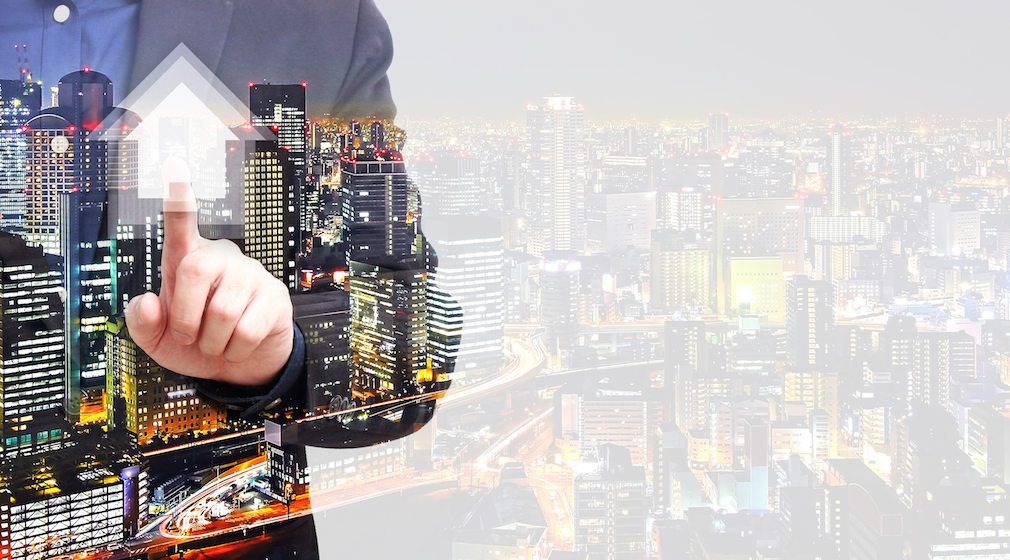 Keller Williams is teaming up with Austin-based artificial intelligence firm KUNGFU.AI to create a new data pool and explore future tech gamechangers for real estate agents.
The first project KW and KUNGFU will work on together is a program that can read and help generate business insights from PDF-based real estate contracts, which contain a mixture of text and handwriting.
"Due to size, Keller Williams has access to the largest proprietary data sets in the real estate industry, rolled up inside of its Keller Cloud. In the new world of AI, where the importance of data is paramount, they are aggressively taking advantage of their position in the market," said Ron Green, chief technical officer at KUNGFU.AI.
"For our first project together, we're taking a practical approach toward a narrow use case to quickly move the needle and will then look to drive ever greater impact from there," Green added.

Because real estate contracts are typically composed of mixed media, the data within them was considered unusable. Processing those contracts would have been time and cost prohibitive. The KUNGFU software will use computer vision technology to make real estate contract data readable for computers and usable for data sets.
"With KUNGFU.AI, we're adding top experts and leaders in the field of artificial intelligence to our strong internal development team. We're rapidly accelerating and bringing more and more value through our proprietary technology to empower agents to provide the best consumer experience," KW Chief Product Officer Neil Dholakia said in a statement.
"Through this partnership, we will bring a highly anticipated new Kelle skill to our agents fast," he added.
According to its release the new product will be available before year's end in the KW app, Kelle.
WHY I CHOSE KELLER WILLIAMS
from the Keller Williams Blog
In one of the most stunning David and Goliath stories in real estate history, Keller Williams has surged past industry giants like RE/MAX, Coldwell Banker, and Berkshire Hathaway HomeServices to become the number one real estate franchise in agent count, closed units, and closed sales volume in the United States*. In 2017, the company's 155,000 U.S. agents closed more than 1 million units, generating more than $300 billion in sales revenue.
"We're proud to be in business with associates who are focused on growing big businesses so they can fund their lives and create opportunities for their families," CEO John Davis says. "And, while we're certainly excited for our people and their incredible increases in agent production and market share, we know we're just getting started. We're committed to continuing to raise the bar and providing even more value for agents and their clients."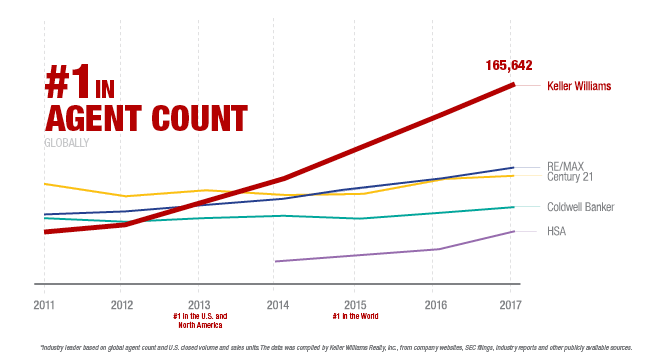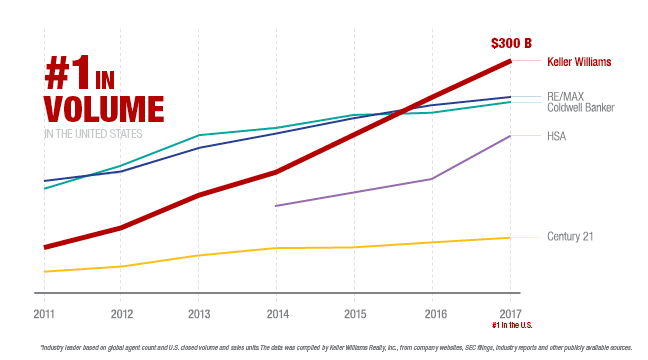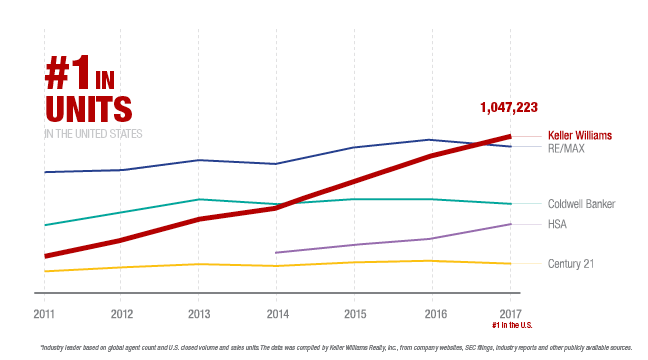 This achievement in growth and volume is driven by the commitment and excellence of Keller Williams' agents and is among many the company has enjoyed.
Keller Williams had 89 agent teams on REAL Trends' 2017 "The Thousand" – an annual list of North America's most successful real estate professionals by transaction sides. This was more than any other franchise.
KW also had the most market centers – 161 – on the REAL Trends 500 list of top brokerages.
On RISMedia's 29th Annual Power Broker Report, Keller Williams represented an industry-leading 32 percent of the top 1,000 brokerages surveyed in 2017, up from 29 percent of the list the previous year. The report ranks residential real estate brokerage firms according to annual closed transactions and sales volume.
While each achievement is notable, the real story of Keller Williams' success begins several decades earlier.
The Beginning
Founded in 1983 in Austin, Texas, the company had a total of 32 agents that year who closed $28 million in volume. Keller Williams' first agent, Gary Gentry, wrote the first offer – for $55,000. After an auspicious start, the young company was soon reeling from the loss of seven of its top 10 producers to a competitor and was struggling in a tough Texas economy.
"It was a difficult time," Gentry reflects. "But in retrospect it was a godsend, because if you learn how to survive and thrive in hard times, then when things change, you are going to do exceptionally well and you've been hardened and strengthened through the process. With the kind of training support that Gary [Keller] and Joe [Williams] gave us, we were constantly learning how to adapt to a different market. On a daily basis, we would discuss what the market was doing and what we needed to do to grow our businesses. A lot of our policy and culture was developed during this time."
In 1986, Keller convened the first Associate Leadership Council (ALC) to reinvent Keller Williams from a traditional real estate company into one that would disrupt the industry. He shared his vision to create a new type of real estate company, where a world-class culture focused on the prosperity and well-being of its people would become an environment no agent or team ever wanted or needed to leave.
The ALC's subsequent sessions were the basis of the company's core belief system, the WI4C2TS. They also developed the profit share program, which treats associates who help the company grow as true business partners.
While the company didn't initially benefit from much name recognition or a national presence, Keller knew that by focusing on how the company could attract and retain top industry talent, everything would eventually fall into place.
"Gary Keller and our early leaders had a powerful vision for the kind of company we want to be," Davis says. "The culture they created continues to permeate everything we do. And by building on that platform of training and technology, we've been able to develop systems and models and tools to help everyone achieve more."
Keller and his colleagues were so focused on helping agents succeed, that in 2002 they brought a team of mega agents together for a mastermind session and raised the question, "What would it take to net a million dollars in personal income?" The brainstorming session resulted in models that would later serve as the basis for Keller's first book, The Millionaire Real Estate Agent.
That book, which quickly became a national bestseller and today has sold more than 1 million copies, was the first of its kind to lay out economic, lead generation, budget and organizational models for, but not limited to, real estate agents. It gave Keller Williams a unique and powerful voice in the industry and became a catalyst for the company's growth.
By 2006, through the leadership of executives like Mo Anderson and Mary Tennant, Keller Williams was the fifth-largest real estate franchise in the United States. Even during the Great Recession, profits grew as agents dug into their businesses and databases. By 2009, the company had moved past Prudential and RE/MAX to become third largest. In 2011, Keller Williams surpassed Century 21 as the number 2 real estate franchise in the country.
Within striking distance of taking the top spot, Keller Williams faced a critical transition. That year, the company's agent count actually declined to roughly 75,000. Now that KW had matured into one of the most formidable sales forces in the industry, it was time to institute more formal systems, accountability, and leadership to ensure that the company's success was predictable and sustainable.
Success – Built From Within
As Keller and his leadership team examined their most successful teams, they saw a unique trend. Each was succeeding through the leadership of John Davis and the models and systems he developed for growth.
As a team leader, Davis turned the Southlake - DFW market center into one of the most profitable Keller Williams offices, and he repeated that success with additional market centers and regions. He did so by holding powerful conversations that helped focus operating principals (OPs), team leaders (TLs), and market center administrators (MCAs) on the core activities that generate results. With healthy business practices being implemented at the local level, agent production grew.
The system was formalized as the "Growth Initiative" and Davis began training other market centers and regions. In 2012, he became Keller Williams' vice president of growth, taking the Growth Initiative companywide. It proved to be just the system needed to rally leaders and agents alike – reigniting the company's success and attracting more agents by giving them the tools they needed to realize unprecedented production. Keller Williams became the number one real estate franchise in the United States by agent count the following year. In 2013, the company was the top real estate franchise by agent count in North America, and in 2014, more associates called Keller Williams home than any other real estate franchise in the world.
In July 2016, Keller Williams launched the Career Growth Initiative (CGI). Built on the success of the Growth Initiative, the CGI uses similar systems, models, and conversations to help individuals invigorate their business and further boost production.
Prosperity, Shared
At the core of Keller Williams' success lies the commitment to shared prosperity – a priority forged more than 30 years ago in that first ALC meeting. Each month, market centers share roughly half of their profit with the team members who helped achieve those gains.
Maximizing profitability requires creating an environment where agents can build thriving businesses. To help them do so, Keller Williams is committed to delivering the best systems, training, marketing, and innovative technology solutions. When agents and teams succeed, they attract other talented professionals, which helps the company grow and improves each team member's overall success – and profit share.
Since the inception of the profit share program, Keller Williams has distributed more than $1 billion to associates who have helped the company grow. In 2017, the company distributed more than $174 million. In just the past four years, profit sharing has totaled more than in the preceding 21 years combined.
As more agents and teams have joined Keller Williams' ranks, the company has continued its climb, leading to its current position as the U.S. leader in agent count, closed units, and closed sales volume.
While this a milestone to be proud of, it is not the final destination for Keller Williams. It has simply positioned it for what's next in an industry that is rapidly changing.
KW Evolves to Tech
At the 2017 Family Reunion event in February, the next phase of Keller Williams' evolution was announced: a commitment to developing the real estate platform that buyers and sellers prefer. And, as a result of its growth and a strong vision cast by Keller, the company plans to invest $1 billion in technology.
"World-class technology companies need to own their product vision, they can't rent it. We can't outsource our road map and vision because no one cares more about what you need to be successful than we do," says Josh Team, chief innovation officer. "Our observation is the number one challenge an agent faces is the number of independent, disconnected technologies." Agents may need to use as many as a dozen different software products and systems, according to the company's data.
With this investment, Keller Williams raises the bar in its commitment to providing the foremost resources agents need to elevate their businesses. This is crucial as companies pour billions of dollars into technology aimed at disintermediating the agent from the consumer. Yet, by its size alone, Keller Williams has the power of collective data and the magnitude to provide its agents with consumer insights no one can match. With this remarkable leverage, the company keeps agents at the center of the transaction, allowing them to build real estate businesses without limits or boundaries.
Respectfully submitted,
Sheila Liermann | Sun Valley Real Estate Broker