Where is the FIRST International Dark Sky Reserve in the U.S.?
It's right here!
The Central Idaho Dark Sky Reserve works to:
Preserve and enhance the natural nighttime experience to improve our quality of life.

Highlight the economic benefits associated with dark sky compliant lighting—from energy savings to tourism revenue.

Conserve our robust nocturnal ecosystems and support the needs of wildlife.

Enhance local scientific and educational opportunities through astronomy and other natural studies.

Promote our dark skies as a unique community asset and part of our local and national heritage.
The Central Idaho Dark Sky Reserve is 1,416 square miles (906,000 acres), most of which are public lands within the Sawtooth National Forest. The Reserve includes portions of Blaine, Boise, Custer and Elmore counties, and the communities of Stanley, Lower Stanley, Smiley Creek, Ketchum and Sun Valley.
"I never knew a man who felt self important in the morning after spending the night in the open on an Idaho mountainside under a star-studded summer sky."

- U.S. Senator from Idaho, Frank Church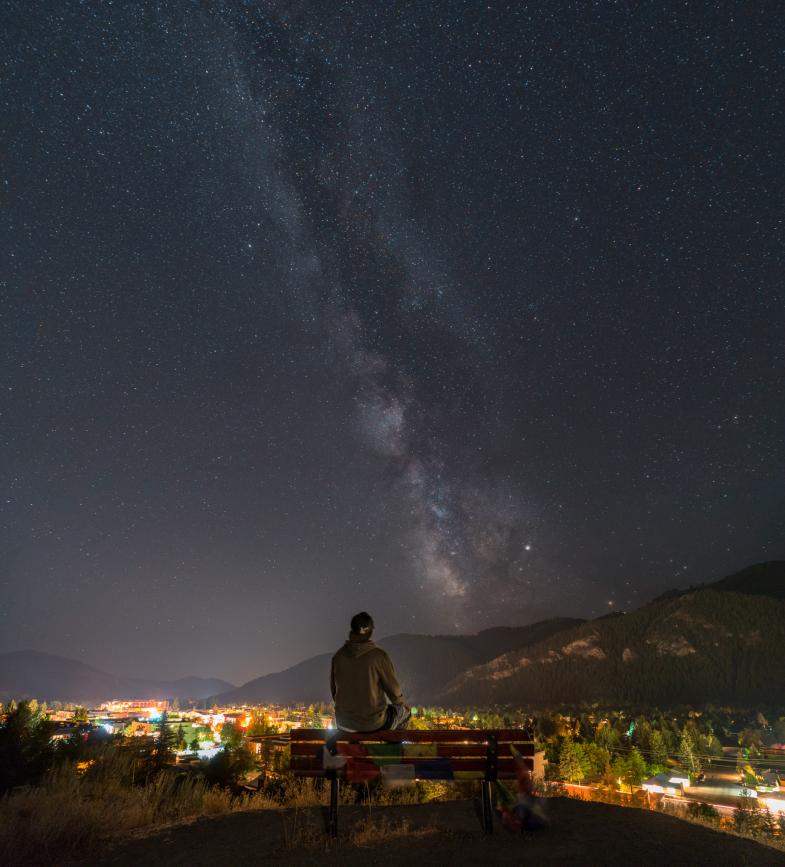 Ketchum led the way in garnering this special designation, when the city passed one of Idaho's first Dark Skies ordinances in 1999, and revised the ordinance in 2017 to meet IDA International Dark Sky Community Standards. Hailey passed a municipal dark sky ordinance in 2002, followed by Sun Valley in 2004, and Blaine County and Custer County in 2010. Stanley is currently working on an ordinance with the commitment of the Forest Service to work with landowners in the Sawtooth National Recreation Area to improve lighting.
Central Idaho constitutes one of the largest areas of natural nighttime darkness left in the United States. That's because at its core, the Dark Sky Preserve sits within three separate designated Wilderness areas, the Sawtooth Wilderness, the Cecil D. Andrus-White Clouds Wilderness and the Hemingway-Boulders Wilderness. And special recognition goes to Congress in 1972 for establishing the 756,000-acre Sawtooth National Recreation Area (SNRA). All this in Sun Valley's backyard!
The SNRA seeks to preserve and protect the area's "natural, scenic, historic, pastoral, and fish and wildlife values and to provide the enhancement of the recreation values associated herewith." Preserving the natural night sky complements all of these values and contributes to the solitude and primitive quality of the SNRA and the associated Wilderness areas.
Did you know that 80% of Americans can't view the Milky Way anymore? The Central Idaho Dark Sky Reserve boasts some of the darkest skies in the lower 48.
Let's celebrate our pristine night sky! Get outside tonight!
Dark Sky Resources

Respectfully submitted,
Sheila Liermann | Sun Valley Real Estate Broker